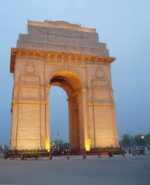 The Bharatiya Janata Party on Monday demanded in the Rajya Sabha the setting up of a national memorial at India Gate for soldiers killed in wars and counter-insurgency operations and said those opposing it were showing "disrespect" to martyrs.
Raising the issue during Zero Hour, BJP's Tarun Vijay said it was a matter of "shame" that certain Congress leaders were opposing the setting up of the memorial at India Gate in New Delhi.
"There should be a big national memorial at Indian Gate for those soldiers who have laid down their lives fighting for the nation. If India Gate comes in the way, it should be converted into a museum," Vijay said.
The BJP member also lashed out at Congress leaders opposing the move, saying, "They make statues of their leaders all over the country but not a single one of national martyrs."
The BJP member was apparently referring to Delhi Chief Minister Sheila Dikshit, who did not favour setting up of such a memorial at India Gate complex. He also referred to statues of political leaders all over Parliament House but not of a single soldier killed in action.
When Vijay made certain objectionable remarks against Congress members for following the British, the ruling party members vehemently objected.
Dikshit has opposed a Group of Ministers' recommendation to set up the national war memorial at the India Gate complex, saying it will affect the ambiance of the area and restrict people's movement at the popular hangout zone.
In separate letters to Defence Minister A K Antony, Home Minister Sushilkumar Shinde and Urban Development Minister Kamal Nath, she said an alternative site should be found for the memorial.