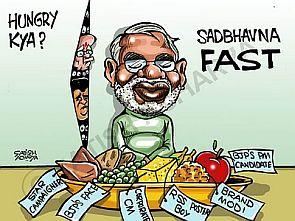 Non-Government Organisations and activists opposed to Gujarat Chief Minister Narendra Modi on Friday launched a website -- www.pheku.in -- to challenge the development model he promotes.
Dev Desai of Act Now for Harmony And Democracy, a non-government organisation headed by Shabnam Hasmi, said the website would expose Modi's "lies".
"In Hyderabad, during his rally on August 11, Modi said there are six lakh Andhraites residing in Ahmedabad and four lakh in Surat. However, these numbers are mere lies," Mahesh Pandya, another activist associated with the website, said.

"He is just throwing numbers in the air to confuse the people," Pandya said.
Activist Hemant Shah said "Narendra Modi has brought Gujarat to where India was in 1960."
"Gujarat's debt was less than Rs 10,000 crore when BJP first came to power in 1985. In 2001-02, when Modi took over, the debt was Rs 45,301 crore which rose to Rs 1.3 lakh crore in December 2012. According to budgetary estimates, the debt would mount to Rs 2.07 lakh crore by 2015-16," activist Prakash Shah said.
Gautam Thaker of People's Union for Civil Liberties said that during his Sadbhavana mission, Modi announced financial packages for every district but the money was yet to be disbursed.

Activists alleged Modi was spreading lies about Gujarat where the crime rate was high, development exclusive and democratic institutions had been destroyed.

Image courtesy: Pheku.com