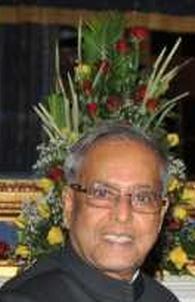 With frequent disruptions and adjournments hampering legislative business, President Pranab Mukherjee on Friday asked the political establishment to find a solution to the problem.
"I am sad when I find that Parliamentary proceedings and state assembly proceedings are disrupted without transacting businesses," he said.
Addressing the Golden Jubilee Celebrations of the Himachal Pradesh Legislative Assembly, the President said that nowadays "we find surreptitiously a new 'D' inserted along with debate, dissent and decision and that 'D' is disruption."
"I find in political science no role of disruption in Parliamentary democracy," he added.
He chided the "minority few who were doing this to impose their own will".
Repeated disruptions, he said, were also hampering proper debate and discussion on finance bills crucial for the country.
He said that only 30 to 35 per cent of Parliament time is devoted to issues of money and finance at a time when the revenue expenditure has increased manifold and complexities have come.
Noting that Members of Parliament and Members of Legislative Assembly do not have time to scrutinise the expenditure, discuss the demands for grants and in detail the finance bill, Mukherjee asked, "Who else will do (it)?"
"People have elected us to discharge our duties and responsibilities. If I do not discharge the responsibilities, it does not speak well," he added.
The President asked leaders and the political establishment "to ponder over the disruptions and find a solution".
Mukherjee, who is on a three-day visit to the state, expressed hope that "we will be able to find a solution."
He said that he had great belief, faith and ingenuity in the Indian political system and the aberrations would be rectified in no time.
The President later inaugurated the Tagore Centre at the prestigious Indian Institute of Advanced Studies where he said that examples like Tagore were needed to pull out the country which has been beset with a sense of moral drift.
"A society needs examples because they serve as moral compass in uncertain times," he said.