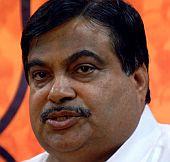 BJP President Nitin Gadkari has cancelled his planned trip to poll-bound Himachal Pradesh for working out legal strategies regarding a "villification" campaign against him by a section of the media.

Sources close to Gadkari said late Monday night that the cancellation was necessitated since he will be closeted with his legal advisors to discuss the possible legal notice to a section of media over carrying on a "vilification" campaign against him based on "untrue and unsubstantiated" allegations.

Gadkari had addressed election rallies in Kinnaur and Shimla last Saturday.
A combative Gadkari earlier in the day threatened to file civil and criminal cases against media houses "defaming" him as part of a "conspiracy" allegedly hatched by the Congress.
"Certain media groups are acting as 'dalals' (agents) of Congress party. Two English TV channels and one English national daily are behind the vicious campaign against me and are playing into the hands of Congress," Gadkari said addressing his supporters in Nagpur on his return home from Delhi after securing endorsement from his party,
Gadkari, who was accorded a warm reception by BJP workers and leaders, claimed innocence and vowed to "teach a lesson" to those engaged in the "slander campaign".
He is under attack over dubious funding of Purti Power and Sugar Ltd controlled by him with media reports alleging that major investments and large loans to it were made by a construction firm Ideal Road Builders (IRB) group, which had won contracts between 1995 and 1999, when he was PWD minister in Maharashtra.