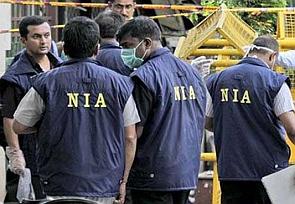 Continuing their investigation into the blasts ahead of Prime Minister Narendra Modi's rally in Patna last October, the National Investigating Agency on Saturday recovered 16 live bombs from the Sithio village near Ranchi, Jharkhand.
The bombs were assembled and kept ready for a future attack, an NIA officer told rediff.com.
According to the investigation, the Patna blasts were planned in Sithio. A module of the banned Students Islamic Movement of India masterminded this attack with the help of the Indian Mujahideen's Ranchi module.
During the interrogation of SIMI operative Haider Ali and Indian Mujahideen's Tehsin Akthar, the NIA found out that the same module was planning more attacks. "Sixteen bombs were kept ready. These bombs were assembled and only the timer needed to be switched on ahead of a blast," the NIA official added.
As per the investigations, the SIMI had plans to launch attacks in Madhya Pradesh, Gujarat, Rajasthan and Uttar Pradesh where they would use these bombs, the NIA pointed out.
Following leads, the NIA on Friday night detained two persons identified, as Ifthekar and Feroz Aslam, and at their instance recovered the live bombs, the sources said. They said the bombs were similar as used by the Ranchi module in Modi's October rally.
The NIA had claimed that the arrested persons had told their interrogators during questioning that they wanted to target Modi and had also carried out dry runs at five places -- Akbarpur, Kanpur, Varanasi (Uttar Pradesh), Delhi and Patna.
But finding it very difficult in view of Modi's security, they planted bombs at the Patna rally -- one of which was placed barely 100 metres from the dais, NIA officials said.
Besides Ali, the NIA had arrested Mojibullah, Numan Ansari and a juvenile (whose identity was not disclosed).
Except for Ali, the NIA had announced a cash reward of Rs five lakh on the heads of the other three who allegedly planted the bombs during the October 27 rally.

With inputs from PTI

Photograph: A team of NIA officials at a blast site