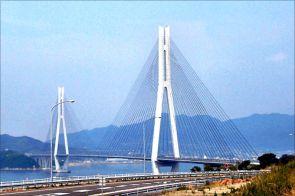 The Border Roads Organisation is due to commission a cable stayed bridge, over river Ravi in Basholi area of Jammu and Kashmir next year.
"This bridge will be the first such bridge of its kind in north India and the third such bridge in India after Hooghly and Rajeev Gandhi Sea Link in Mumbai. It will open up an alternate route to the National Highway 1A and to Kashmir valley via Basholi, Bani, Bhaderwah, Kishtwar, Chhatroo and Anantnag area," a defence spokesman said in a statement.
The Ravi Bridge is a 592 meter long cable stayed bridge over two pylons. The bridge is scheduled to be completed by September, 2014, the statement added.
Chief engineer Western Command, Major General Vishwambhar Singh along with chief engineer Sampark project, U C Mehta on Wednesday visited the construction site of the prestigious bridge to inspect the ongoing works. The bridge is being constructed by project Sampark of BRO.
"As of now, there is no direct route from Basholi to Pathankote and the only route available is via the Ranjit Sagar Dam, Riyalta and Lakhanpur area with a route distance of 72 km. Once the Ravi Bridge is constructed and operational, the total route distance will be reduced to 46 km. The new bridge will not only reduce the distance by as much as 26 km, but also result in reduction of travel time between the two places."
"It will prove to be a tremendous boost to the socio-economic development of the region, in terms of an increase in tourism and commercial activities, by virtue of the reduced distances to other important places in the region like Dalhousie, Chamba," the statement said.