In a shot in the arm for the Narendra Modi government, a new poll has suggested that if elections were to be held today the National Democratic Alliance would romp home to victory with 304 seats.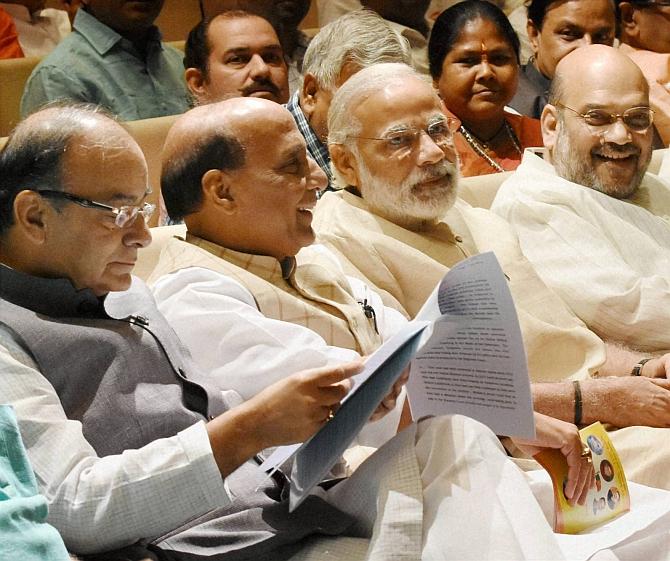 According to the 'Mood of the Nation Poll' -- conducted by television news channel India Today -- Modi's personal popularity remains intact half-way into his term as prime minister of the world's largest democracy.
The survey, which took the views of 12,321 respondents spread across 97 parliamentary constituencies in 194 assembly constituencies in 19 states, suggested that Modi has bounced back strongly after his government's popularity fell precipitously in the last three opinion polls.
However, in terms of all-time popularity, Modi still has some ground to cover.
Respondents termed the late Indira Gandhi as India's best prime ministers followed by Atal Bihari Vajpayee.
Yet, among the current crop of political leaders, Modi is way ahead of competition.
Despite his rankings taking a plunge, Congress vice-president Rahul Gandhi is still the second best person suited to be India's next prime minister followed by Congress president Sonia Gandhi and Aam Aadmi Party leader Arvind Kejriwal respectively.
According to the India Today-Karvy Insights poll, Nitish Kumar, who after taking over as chief minister announced a slew of measures including prohibition in Bihar, was polled as the best chief minister in the country. That should cheer him even though his prime ministerial dreams may be way out of reach as of now.
Image: Prime Minister Narendra Modi, BJP president Amit Shah, Home Minister Rajnath Singh and Finance Minister Arun Jaitley at the BJP Parliamentary Party meeting at Parliament Library in New Delhi. Photograph: PTI Photo