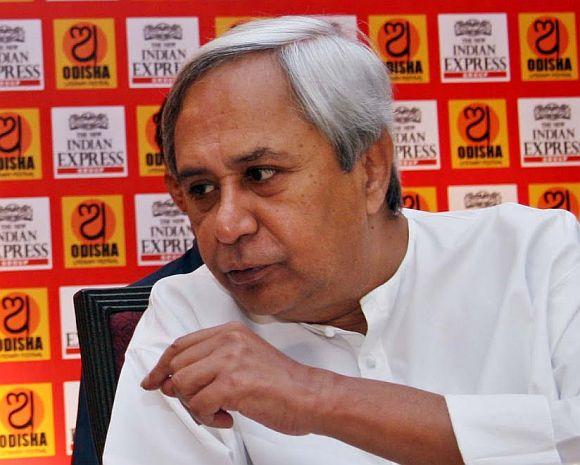 Hinting that the ruling Biju Janata Dal might be a part of the proposed Third Front in the 2014 general elections, Odisha Chief Minister Naveen Patnaik on Thursday 1dubbed the Congress "corrupt" and the Bharatiya Janata Party "communal".
"There is a need for a secular, stable and transparent government at the Centre. Neither the Congress nor the BJP are in a position to provide such a government," Patnaik said while addressing party workers at a function marking the 17th foundation day of the BJD.
"The corruption of the Congress and communal politics of the BJP have weakened our nation. Therefore, a secular, transparent and stable government can fulfill the hopes and aspiration of the people of India," he said.
The BJD president said people want an alternative government at the Centre.
"The BJD as a regional party also sees this possibility," Patnaik said, asking his party activists to work hard and ensure victory of more BJD candidates in the ensuing Lok Sabha elections.
"We can effectively fight for the interest of Odisha if more BJD candidates are elected to the Lok Sabha," he said. The party supremo said though the BJD has won three consecutive assembly elections in the state, there was no room for complacency.
"We must keep working hard to fulfill the aspirations of four crore people of Odisha," he said. Stating that winning elections was not an end in itself but only a means to fulfill the aspirations of the people, Patnaik said "I shall keep working for the people of the state whether there is anyone with me or not."
Accusing the Centre of neglecting Odisha, he said the state had been a victim of political discrimination by the Congress-led United Progressive Alliance government.
"They neglected Odisha even during calamities such as cyclone Phailin. This attitude of the Centre is against the federal system of the country," Patnaik said, adding the people of the state have rejected both the Congress and the BJP in the recently concluded urban elections.
Claiming himself as "sevak" (servant) of the four crore of Odiya people, the chief minister said one should not take people's support as unconditional. "One has to work hard and fulfill the hopes and aspiration of the people, which the BJD has been doing for the past 16 years," he added.