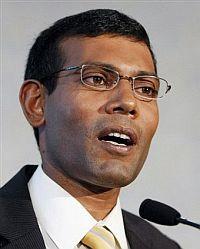 In a major relief for former President Mohamed Nasheed, the Maldivian high court on Monday stayed temporarily the trial against him in a abuse of power case till it decides legitimacy of the bench of the lower court.

The temporary injunction was granted after Nasheed's counsel challenged the legitimacy of the bench, asking the high court to declare the composition of the Hulhumale court bench unlawful.
The high court order comes three days ahead of Nasheed's hearing at the Hulhumale Court over the arrest and subsequent detention of Chief Criminal Judge Abdulla Mohamed during his term, Haveeru daily reported.
The Maldivian Democratic Party, headed by Nasheed, welcomed the order but expressed apprehension that the government might try to "drag" him into some other case.
"We welcome this order. Till, now it was suspected that he would summarily be sentenced by the Kangaroo court. But we can't rule out that the government may drag him into some other case," MDP MP and the party's international spokesperson Hamid Abdul Gafoor said.

The composition of the three-judge bench of the Hulhumale court by the Judicial Service Commission has been up for much debate recently and is also being probed by the Parliament's Independent Bodies Committee.
Opposition MDP has maintained that Nasheed's trial is a "politically motivated sham" designed to disqualify him from the upcoming presidential election slated for September 7.
If convicted and sentenced to more than one year in prison, Nasheed would be barred from leading MDP into the presidential polls.
Nasheed was arrested on March 5, less than a fortnight after he left the Indian High Commission in Male where he took shelter for 11 days to evade arrest in the case.
After spending 24 hours in detention, 45-year-old Nasheed walked out of police custody on March 6.
During the last hearing, Nasheed had sought deferment of trial till the presidential polls in September. The Prosecutor too had agreed to the proposal.

However, noting that the Elections Commission is yet to announce Nasheed as a presidential candidate for the elections, the Bench had postponed the trial by four weeks.
His arrest led to protests by Nasheed's supporters who also indulged in violence.