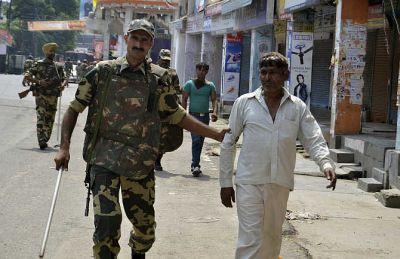 Agitated over arrest of its MLA for his alleged role in Muzaffarnagar riots, Bahujan Samaj Party on Sunday lashed out at the ruling Samajwadi Party, accusing it of adopting a "pick and choose" approach by targeting political rivals and protecting its own leaders.
In a related development, a case was registered in Muzaffarnagar against 85 persons, including a Khap council head, for their alleged involvement in the violence.
"To hide its mistakes and failures, SP government is hell-bent on taking one-sided legal action by following a pick and choose policy," BSP Legislature Party leader Swami Prasad Maurya told reporters in Lucknow.
He accused the ruling party of acting with "political vendetta" after BSP MLA from Charthawal, Noor Saleem, was arrested on Saturday from Muzaffarnagar for allegedly inciting violence.
Besides Saleem, two BJP MLAs Sangeet Som and Suresh Rana have been arrested and sent to jail.
Referring to the August 30 meeting in Muzaffarnagar, the BSP leader said people cutting across community and party lines had participated in it. "Other than BSP leaders, the meeting was also attended by Congress and SP men...then why action was not taken against them?" Maurya asked.
He alleged that SP and BJP were trying to divide two communities in different camps for their political gains.
Some riot victims filed a police complaint, alleging that their houses at Lisadh village in Fugana area were burnt during the communal violence, after which a case was registered against 85 persons.
Image: Security personnel detain a man for questioning in curfew-hit Muzaffarnagar following communal clashes
Photograph: Reuters