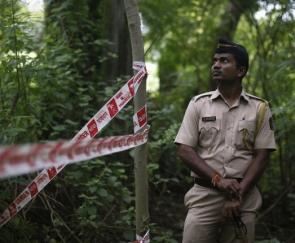 The 23-year-old photojournalist in the Mumbai gang-rape case identified her assaulters and fainted inside the court during her four-hour deposition on Thursday following which she was taken to a city hospital.
"The rape survivor fainted during the deposition after which we stopped the proceedings and I requested the court that she be referred for medical help," special public prosecutor Ujjwal Nikam told PTI.
The victim, who was allegedly gang-raped in the Shakti Mill compound in Mumbai on August 22, was accompanied by her mother in the sessions court here during its in-camera proceedings.
The young scribe stuck to her statement given to the police, narrated the entire incident and shared her ordeal in the court on the third day of the trial on Thursday, Nikam said. She also identified the porn clip shown to her by the accused during the sexual assault, he said.
Nikam described the victim as "confident, articulate and narrative" and said she was "tense" during the deposition and at times requested for a small break. However, the four accused in the case remained "unfazed, remorseless and unmoved" during the proceedings, he said.
In view of the incident, Principal Judge Shalini Phansalkar Joshi adjourned the trial till Friday.
The journalist, who was interning with an English magazine in the city, was gangraped by five persons, including a juvenile whose trial is separated, when she had gone to the deserted mill compound her male colleague on an assignment. The accused had tied up the victim's colleague with belts and allegedly raped her.
The accused Vijay Jadhav, Kasim Bengali, Salim Ansari and Siraj Rehman have been charged with rape, conspiracy, common intention, unnatural sex and charges under Information Technology Act.
The Mumbai crime branch had on September 19 filed a 600-page chargesheet against the four accused.
An 18-year-old telephone operator was also allegedly gang-raped on July 31 by five men, three of whom are also allegedly involved in the gang-rape case, police said.

Image: A policeman stands guard near the crime scene where a photojournalist was raped by five men at an abandoned mill in Mumbai

Photograph: Danish Siddiqui/Reuters