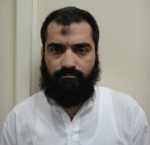 In a crucial evidence in Mumbai26/11 terror attack case, the voice samples of arrested Lashkar-e-Tayiba operative Sayed Zabiuddin Ansari alias Abu Jundal have matched with ones on the terror tapes intercepted during the strike.
"The city's Forensic Sciences Laboratory, where Jundal's voice samples were sent to match, has submitted a report to the Mumbai police crime branch concluding that one of the voices in the 26/11 intercepts was his," a crime branch official told PTI on Monday.
Jundal, the alleged prime conspirator of the 26/11 carnage, was arrested on July 21 this year in the case after being brought from Delhi, where he had been deported from Saudi Arabia in June.
According to the police, Jundal was present in the control room in Pakistan along with five other Pakistani LeT operatives, who were dictating terms to the ten terrorists during the attacks.
The police claimed that one of the voices in the conversations intercepted by intelligence agencies during the attack was of Jundal, who was heard using Hindi words such as 'prashasan' (government), 'udharan' (example) and 'yuvak' (youth).
He was also heard telling the terrorists to hide their identity and identify themselves from the Deccan Mujahideen, hailing from Toli Chowk in Hyderabad. Jundal had also told the Lashkar ultras attacking Nariman House to convey to the media that the strike was just a
trailer – 'asal film baaki hai' (the main film is yet to come), the police said.
Jundal had also taught the attackers Hindi, and apprised them of the topography of targets, police said. According to the police, Jundal, a native of Beed district in Maharashtra fled India in 2006 following the Aurangabad arms bust by state Anti-Terrorismj Squad in May, the same year.
Jundal had been brought face to face with Mohammed Ajmal Kasab, who was caught alive during the attack, in August this year at high security Arthur Road jail. Kasab identified Jundal as one of the main conspirators of the mayhem.
Kasab had been hanged to death in November.