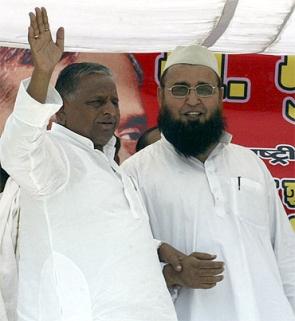 Amid raging controversy over Samajwadi Party supremo Mulayam Singh Yadav's claim -- that those living in relief camps in Muzaffarnagar were political activists and not riot victims -- his party went into fire fighting mode on Wednesday, saying his statement had been twisted.
"Some political parties are conspiring on the issue. The statement has been twisted with a wrong inference," Samajwadi Party spokesman Rajendra Chaudhary said.
The SP government had immediately set up relief camps, extended financial assistance to the victims and provided employment to the kin of the deceased, he said.
Chief Minister Akhilesh Yadav has also assured complete security to those living in the camps, Chaudhary said.
Reacting to the defence mounted by the SP, Bharatiya Janata Party chief spokesman Vijay Bahadur Pathak demanded to know how the actual words uttered by the SP supremo before TV cameras could have been twisted.
"Instead of spewing out wrong logic, his party should apologise," he said.
Pathak said that Mulayam's statement had hurt the feeling of those living in the camps and facing numerous hardships.
Bahujan Samaj Party leader Swami Prasad Maurya also condemned Mulayam's statement and demanded an apology from him.
Addressing a meeting of party workers in Balrampur district, Maurya alleged, "Muzaffarnagar riots were the result of a joint conspiracy between the BJP and the SP. Now, Mulayam is branding those living in relief camps as conspirators."
"He should apologise to the people for his statement," he said.
After Congress leader Rahul Gandhi's sudden visit to the relief camps, Yadav had on Monday claimed, "There are no riot victims in those camps. There is not even one. You can check. These are people who are conspirators. The BJP and the Congress have conspired together. They have asked people to stay there at night and sit in dharnas. This is a conspiracy by the people there".
He added, "They (riot victims) have all gone. The Congress and the BJP are provoking them to rake up the issue till the elections".
Muslims clerics had on Thursday reacted sharply to the SP supremo's statement.
"The statement is politically motivated and he (Mulayam) wants to give this issue a political colour," General Secretary ofAll India Muslim Personal Law Board Maulana Nizamuddin had said.