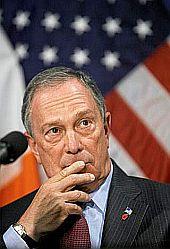 Amid opposition from various quarters to the proposed mosque near Ground Zero, the New York City mayor on Wednesday strongly supported its construction close to the site of the fallen Twin Towers of the World Trade Centre.
"If we say that a mosque and community centre should not be built near the perimeter of the World Trade Center site, we would compromise our commitment to fighting terror with freedom," Mayor Michael Bloomberg said at the annual Ramadan celebrations at Gracie Mansion.
"We would feed the false impressions that some Americans have about Muslims. We would send a signal around the world that Muslim Americans may be equal in the eyes of the law, but separate in the eyes of their countrymen," he said.
Polls suggest that the majority of Americans inside and out of New York, both Republican and Democrats, are against a mosque being built so close to the 9/11 site.
Prominent Republicans like Sarah Palin, Rudy Giuliani, and Newt Gingrich have already spoken out against the mosque as have Democrats like Senate majority leader Harry Reid.
Kuwaiti-born Imam Feisal Abdul Rauf, the developer of the $ 100 million Muslim community centre, which will include the mosque, insists that it is 'a centre for all New Yorkers' and 'its purpose is to interweave America's Muslim population into the mainstream society.'
His wife and co-developer of the mosque Daisy Khan compared the opposition to the mosque as anti-Semitism.
"It's not even Islamophobia. It's beyond Islamophobia. It's hate of Muslims," she said on ABC's This Week.
Underlining that Muslims, too, had died on 9/11, the mayor pointed out one of the guests, Talat Hamdani, whose paramedic-son, Salman, was killed in the terrorist attack.
Bloomberg also noted that if the mosque is not built, it would be a valuable propaganda tool to terrorist recruiters who tell Muslims that America is at war with Islam.
He also rejected recent suggestions, including by New York Governor David Paterson, of finding another location for the mosque and community centre.
"And there are people of every faith -- including, perhaps, some in this room -- who are hoping that a compromise will end the debate. But it won't," Bloomberg said.
"The question will then become, how big should the 'no-mosque zone' around the World Trade Center be? There is already a mosque four blocks away. Should it, too, be moved?" he said.
Image: NYC Mayor Michael Bloomberg