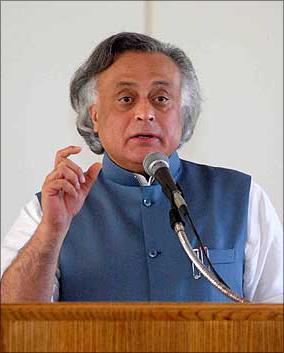 Gujarat Chief Minister Narendra Modi's projection as prime ministerial candidate will lead to "jacking up" of communal temperature and there can be more riots such as Muzaffarnagar in Uttar Pradesh, Congress leader and Union Minister Jairam Ramesh said on Thursday.
He described Modi as a "mukhauta" (mask) of the Rashtriya Swayamsevak Sangh and said the 2014 Lok Sabha elections would be a direct fight between the Congress and the Sangh for the first time.
He said that the Bharatiya Janata Party wanted to convert the next general election into a battle for prime ministerial sweepstakes but Congress would not get into a "me too" syndrome, suggesting that the party may not project anybody.
"I think Modi's political strategy has been and will always be communal polarisation... When his lieutenant Amit Shah was appointed as in-charge of UP, he gave the game away," Ramesh told PTI in an interview.
Accusing the BJP of fanning communal violence in Muzaffarnagar earlier this month, Ramesh apprehended more such incidents in the Hindi heartland with Modi's projection.
"Muzaffarnagar is a trailer, the first milestone... Muzaffarnagar is a millstone. There will be more such millstones. I fear that there will be a gradual jacking up of communal temperature.
"It's a time-tested strategy in which Modi is a past master. I am afraid that the way we are going, UP and Bihar, which are heartland of Indian politics can see communal tensions and flare-ups," he said.