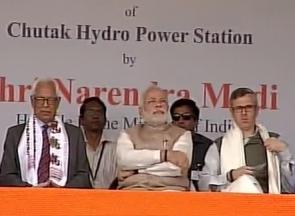 Prime Minister Narendra Modi on Tuesday pledged to work for the welfare of displaced Kashmiri Pandits, refugees from West Pakistan and kin of those killed in terrorist violence, saying the days of their neglect are over.
"See the condition of Jammu and Kashmir where 20 per cent of the population is displaced. We want to settle these displaced people and give them opportunity of their livelihood," he said while inaugurating the 44 MW Chutak hydro-power project in Kargil.
Modi said his government was committed to ensure that this 20 per cent population contributes in changing the destiny of the state. "More than two lakh displaced are refugees from West Pakistan, over one lakh displaced are...more than 4 lakh are Kashmiri Pandits, over eight to 10 lakh are those who lost their families in terrorist attacks. These are also our brothers and sisters and we have to think about them," he said.
He said the governments in the past have shown apathy towards ensuring that these 20 lakh displaced people live a life of dignity and self-respect. "Now those days have gone. Whatever kind of displaced people are there from Jammu and Kashmir, they are our brothers and sisters and our family. Their joys and sorrows are ours. Their development is our determination and we will move forward on this through a number of schemes," he said.
"We will do whatever it takes to do it and we are determined for that," he said. Touching upon the issue of corruption during the second leg of his day-long tour to Jammu and Kashmir, Modi said his mantra was "Na khaunga, na khane dunga (neither will I take a bribe, nor will I allow anyone to take bribe)."