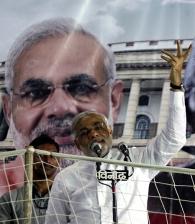 Gujarat Chief Minister Narendra Modi on Thursday hit out at the Congress over the chai-wala (tea seller) barbs directed at him, saying the ruling party was mocking at the poor whom it has used only as a vote-bank all these years, without doing anything for them.
The Bharatiya Janata Party leader also took a dig at Samajwadi Party chief Mulayam Singh Yadav for saying that Modi will not be able to turn Uttar Pradesh into Gujarat.
"Netaji, do you know the meaning of converting to Gujarat? It means 24-hour electricity in every village and street. You can't do it. It requires a 56-inch chest," Modi said.
The BJP's prime ministerial candidate appealed for a mandate for a minimum of 60 months, promising to convert the country's huge potential into a reality, so that it matches the most developed countries of the world.
"This country is not poor. The people of this rich country have been kept poor for the sake of politics. You give me 60 months and I promise you a life of happiness and peace," he told a large rally in Gorakhpur, UP.
The Congress government has failed to eradicate poverty despite repeatedly projecting it as a main plank for the last 60 years, he said.
In a sarcastic tone, he said he has been wondering for a long time why poverty has been increasing despite the poor voting for the Congress all these years.
"Now I have got the answer. The Congress' political future lies in keeping them poor. Its mentality is anti-poor," he added.
Apparently referring to the chai-wala barb directed at him by Congress leaders, Modi said it was because of the party's mentality that "no Congress leader is ready to tolerate a tea-vendor, the son of a poor mother, holding his head high. They mock at the poor."