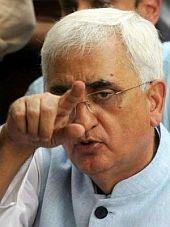 Union Minister Salman Khurshid on Wednesday criticised Bharatiya Janata Party's Prime Ministerial candidate Narendra Modi for going ahead with his political rally in Patna despite the blasts at the venue in which six people were killed, saying it was a "giveaway" and exposed his true character of not caring for anyone.
"Were they (victims) who came to see him canon fodder. He did not even say that he was very sorry that this happened.... Look at the conduct of Modi in this rally.
"His conduct in that rally was a giveaway. He doesn't care. If he had cared, he would have said that today is not the day of my speech. Today let us have two minutes silence and let us disburse," Khurshid told PTI in an interview here.
Eight blasts had rocked the Maidan and surrounding areas on Sunday at the Modi's 'Hunkar' rally. Six people were killed and 82 others were injured in the blasts.
Khurshid said that Modi does not speak to any person, who can query and dissent. "He does not talk to people. He talks at people and in a democracy in which you talk at people is not a good democracy. We want to talk to people. Rahul Gandhi in his own way tries to talk to people," he said.
"Modi's style is that whatever he has said is final. And no one has a right to question him," Khurshid said. The senior Congress leader also defended Rahul's statement in a rally in Rajasthan that Pakistani intelligence agency Inter-Services Intelligence was getting in touch with some victims of Muzaffarnagar communal violence.
"Did Bombay bomb blasts have nothing to do with Dawood or Dawood had nothing to do with ISI. They exploited Mumbai and we must fight this exploitation. Rahul is saying the same thing in different words. We have to fight any exploitation. The way to fight exploitation is that nobody is made psychologically vulnerable," Khurshid said.
He also took a dig at BJP and RSS on the issue, saying, "Is it double speak that Modi says Rahul Gandhi should apologise for the remarks and and RSS says Rahul is right. Why does Modi not tell Rashtriya Swayamsevak Sangh to apologise for saying that Rahul is right. Frankly he should first get his own chap to apologise."
Khurshid said the 2014 Lok Sabha election was not a Rahul versus Modi contest, adding it was about "idea of India" and the Gujarat chief minister was "totally contrary to the idea of India".
"Picture abhi baaki hai. The story is not over. The story is not only about winning and losing. Modi thinks it is about winning and losing. For us it is not about winning and losing. For us it is about the idea of India. If we lose and the idea of India survives, no problem. We win and the idea of India goes, then it is nothing," Khurshid said.
"Modi is totally contrary to the idea of India and the idea of India will survive. It is more powerful than Modi will ever be and therefore the idea of India survives.... The battle is not Rahul Gandhi versus Narendra Modi. The battle is of the minds and hearts of India for the idea of India," the minister added.
He also called for giving a "clear practical shape" to the idea of secularism.
Khurshid's call comes as some non-Congress and non-BJP parties participate in a two-day convention against communalism in the wake of Muzaffarnagar riots to stop "communal forces". United Progressive Alliance ally, the Nationalist Congress Party is also attending the convention.
"Secularism as a label is not good enough.... We have to be a little more perceptive and clear and we must understand what people mean when they say they are secular.... We have to give it a clear practical shape. It's good to say that I am secular but I have to define the following things that indicate my being secular," he said.
He also termed Modi a "manifestation of a political party that is desperate to survive with power" and when one is desperate, he is willing to pay any price for whatever gain somebody offers.
"They (the BJP) are desperate for power. They have given up whatever element of rational analysis is relevant," Khurshid said, asserting that Modi's campaigning in Karnataka assembly by-elections yielded no good results for the BJP.