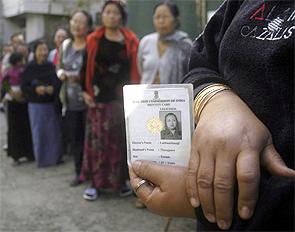 Polling to elect a new assembly in Mizoram began at 7 am on Monday with the main contenders -- ruling Congress and opposition Mizoram Democratic Alliance comprising Mizo National Front, Mizoram People's Conference and Maraland Democratic Alliance -- contesting at all 40 seats.
All the seats are reserved for Scheduled Tribe nominees, except Lunglei South, which is for general candidates. Chief Minister Lal Thanhawla of the Congress and all his 11 ministers are among the 142 candidates in fray.
Women outnumber men by a margin of 9,806 in the electorate of 6,908,60. While there are 3,50,333 women in the electorate, there are 3,40,527 male voters count.
For the first time in the country, a voter-verifiable paper audit trail system will be tried in this election on a larger scale, in 10 constituencies. It was first experimented in an assembly by-poll in Nagaland in September.
Chief Minister Lal Thanhawla is contesting from two constituencies -- Serchhip, his home turf, and neighbouring Hrangturzo -- while opposition MNF leader and former chief minister Zoramthanga is trying his luck from Tuipui East bordering Myanmar.
The Congress, which had won 32 seats in 2008, has fielded 31 of the sitting MLAs. Only Nirupam Chakma was replaced by B D Chakma, chief executive member of the Chakma Autonomous District Council.
There are six women candidates -- three fielded by BJP, one each by Congress and MNF and one rebel MNF candidate.
There are 1,126 polling stations in the state, of which 94, mostly in border areas, have been identified as 'critical' where security has been beefed up.
An additional 31 companies of central para-military forces and state police of neighbouring states have been deployed to oversee the polls, apart from seven armed battalions of the state police.
Security has been tightened all along the Manipur border and along the unfenced 64-km border near the tri-junction of Mizoram, Tripura and Bangladesh in Mamit district.
Of the 40 candidates fielded by the MNF, MDA, which is a senior partner of the MDA, is contesting from 31 seats, while the MPC and the MDF have fielded candidates in eight and one constituencies respectively.
Other contesting parties are Zoram Nationalist Party (38 seats), Bharatiya Janata Party (17), Nationalist Congress Party (two) and Jai Maha Bharath Party (one). There are four independent candidates.
Image: A voter displays her voter identity card at a polling booth in Aizawl ' Photograph: Jayanta Dey/Reuters