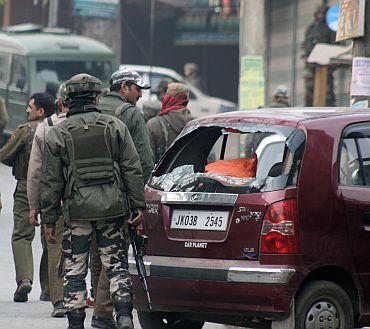 A Station House Officer was killed by militants in Chadoora town in Kashmir's Budgam district on Monday afternoon.
A senior police officer said militants fired indiscriminately at a group of policemen at the main chowk in Chadoora town, nearly 15 km from Srinagar.
"Four people including the SHO were injured in the shootout. The SHO, Syed Shabir Ahmad, succumbed to his injuries on the spot. The other injured, including two policemen and a civilian, were taken to the hospital for treatment," the officer said.
Senior police officers rushed to the spot with reinforcements and the area has now been surrounded.
No group has claimed responsibility for the attack.
Photograph: Umar Ganie