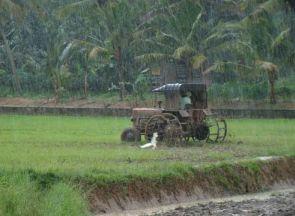 Northern India experienced a slide in temperatures across the region even as the country's south welcomed the south-west monsoon which set in over Kerala and Lakshwadeep on Saturday.
The mercury continued its slow descent in Delhi which registered a maximum of 38 degrees Celsius, which was two degrees below normal and lower than the 40.6 degrees recorded on Friday.
The minimum in the national capital was a notch below normal at 26.7 degrees, but slightly higher than yesterday's 24.8 degrees.
However, a high humidity of between 45 and 70 per cent saw many Delhiites complain of sweating.
Meanwhile, light to moderate rainfall and thundershowers at one or two places in eastern Uttar Pradesh in the last 24 hours led to day temperatures falling in the Gorakhpur and Bareilly divisions.
Kanpur recorded 7-cm rainfall while Gorakhpur received showers measuring 3-cm. It also rained in Deoria and Allahabad (each 2-cm) and in Shahjahanpur (1-cm).
Etawah continued to be the hottest place in the state although it saw the maximum come down to 43.4 degrees Celsius from 45.6 degrees.
Temperatures also saw a drop in the states of Punjab and Haryana which have seen the mercury soar as an effect of the heat wave sweeping the region.
Union territory and common capital of Chandigarh was at a relatively cool 36 degrees today as opposed to 40.3 degrees yesterday.
In Punjab, Ludhiana recorded a maximum of 38.5 degrees after it saw the mercury touching 42.6 degrees on Friday.
Amritsar, however, continued to sweat under the sizzling heat with a maximum of 46.2 degrees, up from 44 degrees yesterday.