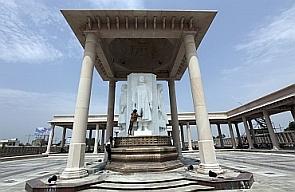 Former Bahujan Samaj Party minister Naseemuddin Siddiqui, indicted in the memorial scam, on Tuesday questioned the legal status of the Uttar Pradesh Lokayukta as Chief Minister Akhilesh Yadav asserted law would take its own course in the matter.
"Some people have gone to the apex court over the legality of the manner in which the tenure of the Lokayukta has been extended by the Samajwadi Party government. The matter is likely to come up soon with the Supreme Court serving notices to the government and the Lokayukta," Siddiqui, former public works department minister and a close aide of BSP supreme Mayawati, told reporters at Jaunpur.
On the Lokayukta report indicting him, Siddiqui said he was "not expecting any kind of pat on our backs."
The chief minister said the probe into the memorial scam was on and the government would act as per the law. In his report submitted to the UP government on Monda, Lokayukta N K Mehrotra said public money to the tune of Rs 1,400 crore was siphoned off in construction of memorials and parks during the previous Mayawati regime.
Two former BSP ministers, including Siddiqui, a sitting MLA, officers and engineers were among 199 people indicted by the Lokayukta for irregularities in construction of memorials in the state.