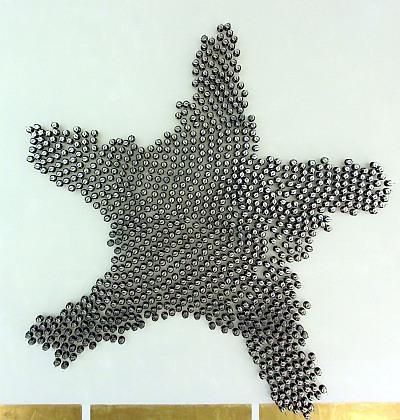 Harvard scientists, including one of Indian-origin, have created the world's largest robotic swarm -- 1,024 little bots standing on pin-like legs -- that can assemble into predetermined shapes.
Researchers at HarvardUniversity demonstrated the robots by sending a command "form a sea star shape" to the little bots simultaneously via an infrared light.
The robots began to blink at one another and then gradually arranged themselves into a five-pointed star. The robots then also formed the letter K.
The 'K' stands for Kilobots, the name given to these extremely simple robots, each just a few centimetres across, standing on three pin-like legs.
Just as trillions of individual cells can assemble into an intelligent organism, or a thousand starlings can form a great flowing murmuration across the sky, the Kilobots demonstrate how complexity can arise from very simple behaviours performed en masse.
The self-organising swarm was created in the lab of Radhika Nagpal, Fred Kavli Professor of Computer Science at the Harvard School of Engineering and Applied Sciences (SEAS) and a Core Faculty Member at the Wyss Institute for Biologically Inspired Engineering at HarvardUniversity.

"We are especially inspired by systems where individuals can self-assemble together to solve problems," said Nagpal.

The Kilobots require no micromanagement or intervention once an initial set of instructions has been delivered.

Four robots mark the origin of a coordinate system, all the other robots receive a 2D image that they should mimic, and then using very primitive behaviours -- following the edge of a group, tracking a distance from the origin, and maintaining a sense of relative location -- they take turns moving towards an acceptable position.
The Kilobots also correct their own mistakes. If a traffic jam forms or a robot moves off-course -- errors that become much more common in a large group -- nearby robots sense the problem and cooperate to fix it.
To keep the cost of the Kilobot down, each robot moves using two vibrating motors that allow it to slide across a surface on its rigid legs.
An infrared transmitter and receiver allow it to communicate with a few of its neighbours and measure their proximity -- but the robots are myopic and have no access to a bird's-eye view.
"These robots are much simpler than many conventional robots, and as a result, their abilities are more variable and less reliable," said lead author Michael Rubenstein, a research associate at HarvardSEAS and the Wyss Institute.

"For example, the Kilobots have trouble moving in a straight line, and the accuracy of distance sensing can vary from robot to robot," he said.
Yet, at scale, the smart algorithm overcomes these individual limitations and guarantees -- both physically and mathematically -- that the robots can complete a human-specified task, in this case assembling into a particular shape, said Nagpal.