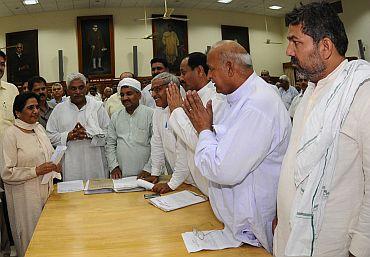 Having taken enough onslaughts from different opposition parties for forcibly acquiring huge chunks of agricultural land for industrial and commercial purposes, Uttar Pradesh Chief Minister Mayawati on Thursday sought to score a point by wooing farmers through a new land acquisition policy, framed after a dialogue with farmers.
In a significant departure from the existing policy, Mayawati has taken a decision to ban all forcible acquisitions.
"We are against any kind of forcible acquisitions and no acquisition will be made if 70 per cent of the affected farmers do not voluntarily agree to give away their land," she made it loud and clear on Thursday.
Claiming that this was the first time ever that any chief minister in the country had held an open house with farmers before drawing up a land acquisition policy, Mayawati used the opportunity to train her guns at the Congress-led United Progressive Alliance government at the centre, for the dilly-dallying over the much-awaited amendments in the land acquisition law. 
"While we had already framed our land acquisition policy in September 2010, I decided to convene a panchayat of farmers in Lucknow and after taking their suggestions into account, we have made major changes to draw up a new acquisition policy" she said.
As many as 215 farmers' representatives from different corners of the state arrived in Lucknow on Wednesday for the much hyped "kisan panchayat" with the chief minister.
Bhartiya Kisan Union General Secretary Rajesh Tikait, who commands a large following of farmers in Western UP, took the lead in apprising the chief minister of the farmers' expectations. 
Mayawati not only insured a 'VIP' treatment by lodging all of them in the best government guest houses and providing them luxury Volvo buses for the state capital's guided tour, together with lavish banquets, but also gave them enough sops. 
Besides announcing heavy restrictions on forcible acquisitions, what came as a boon to the farmer was doing away with the role of the government in acquisition of land for development of projects in the private sector .
Sure enough, these sops followed widespread criticism of the Mayawati government on account of repeated violence over the past few months over acquisition of land in parts of Western UP.
What had worsened the situation was the more recent clash at Bhatta-parsaul villages under Greater Noida, following the killing of four persons including two cops in May. The violence prompted Congress leader Rahul Gandhi to launch a tirade against Mayawati and her allegedly "poor" governance. 
However, the new acquisition policy was not going to benefit the farmers of Bhatta Parsaul . "Since farmers in Bhatta–Parsaul had already received their full and final compensation in terms of the then prevailing policy, the revised policy would not apply to them," Mayawati clarified in reply to a question.
Yet, she claimed, "I am confident that my government's revised land acquisition policy looks far ahead of what was still being perceived by the Central government, which had been sitting over the land acquisition amendment bill for a long time now."
In a full throated warning, she said, "I wish to make it loud and clear that the Bahujan Samaj Party will raise the issue during the forthcoming monsoon session of Parliament; and in case the centre fails to introduce the bill during that session, we will lay a siege around the parliament."
Elaborating on her government's new policy which sought to bring into effect from today, she said "Henceforth, the state will only play the role of a facilitator when it comes to acquisition of land for development of large industrial or infrastructure projects by private companies, who will have to necessarily go for direct negotiations with the owners of land."
She said, "The state government would come into play only where land were to be acquired for public purposes for building roads, highways, canals or for development by urban development or industrial development authorities, as per the master plans prepared by the administration." 
But the practice of direct negotiations and mutual agreement would also apply in case of acquisition of land required for public purposes.
She said, "Apart from being free to enter into a direct contract with the developer company, a farmer would also have the liberty to choose the kind of compensation – between an outright amount settled through negotiation or a deferred payment."
"Besides, he would also have yet another option to take up to 23 per cent fully developed land in lieu of the total acquired agricultural land, which would entail a waiting period up to three years," she added.
Farmers availing of this option would also be exempted from paying stamp duty for registration of such developed land in their names.
The exemption clause will also apply to those farmers who decide to re-invest their compensation money in purchase of another piece of agricultural land anywhere in the state, provided the transaction takes place within a period of one year.
"In case of instant payment of a negotiated compensation, the farmer would also be entitled to a 33-year annuity at the rate of Rs 23,000 per acre with an annual increment of Rs 800," the chief minister said.
"For those who do not wish to go for such long-term arrangement, a provision has been made for payment of a one-time flat rehabilitation package at the rate of Rs 2.76 lakh per acre.
Announcing a special package for farmers, who would be rendered landless as a consequence of the acquisition, she said, "Such farmers would be entitled to a one-time payment equivalent to five years' minimum wage admissible to agriculture labour."
Those left with marginal holdings after the acquisition, would receive a onetime payment equivalent to 375 days' minimum age, she said.
She went on to add, "Even as the new policy comes into effect from Thursday, we are open to more suggestions from farmers, whom I would like to assure that their interest was supreme for me and my government."
Image: UP Chief Minister Mayawati meets farmers in Lucknow
Photograph: Pawan Kumar