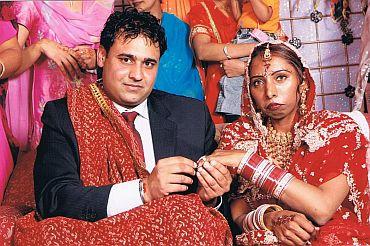 Cases of marriage fraud involving Indo-Canadians have been on the rise, here's one, writes Ajit Jain from Toronto
Ashpreet Badwal was waiting at the Pearson International Airport in Toronto with her father and aunt to receive her husband Manjit Shahi, who was coming from India for the first time on June 28. Instead, she received a threatening call from him on her cellphone, warning her not to talk to the police or the immigration authorities.
"I got so scared that I didn't even tell my dad about it," Badwal told India Abroad. "I told them that Manjit probably missed his flight. I told my dad about what happened -- that Manjit was in Toronto, but I had no clue of his whereabouts -- after three days," she said.
Badwal, who is wheelchair-bound, met Shahi from Punjab online in 2006.
"We started talking on the phone," she said. "After one year of speaking on the phone, we decided to get married. Then my uncle went to see him. He has my pictures. I didn't hide anything. He knew from the beginning that I was handicapped. I travelled to India twice. The first time I went was in 2007 when we got married," Badwal said.
The Canadian immigration office refused Manjit a spousal visa. "They said it was not a genuine marriage, but a marriage of convenience," she said. "I am 34, he's 30, and more importantly because I am handicapped and he's normal." 
Badwal approached Toronto-based lawyer Stephen Green of Green and Spiegel, who filed an appeal to the Immigration Refugee Appeal Board. Green said he took up Badwal's appeal as she was deeply in love with Shahi.
"There was no inkling whatsoever that the man was taking her for a ride," he said. "She has known him for four years. It's terrible," Green said.
"After Manjit's telephone call threatening to harm me after he landed in Toronto, I was very afraid," she said. "I lodged a police complaint. The police only said, 'Don't open the door to any stranger. Don't answer the telephone and if there's something call 911.' I went to immigration and they wouldn't tell me what they could do for me or that they would send him back to India at the earliest. I don't know what to say. I am too confused. Why can't the police and immigration trace this man and send him back to India?"
Green said the process of removing Shahi from the country could take upto one year. "This man will be deported under the Immigration and Refugee Protection Act for misrepresenting his intentions about the marriage," he added.
"There will be a hearing and they will hopefully order his removal, but he will have the right to appeal. After that is completed, they will remove him from the country."
In the meantime, Shahi will be able to live in Canada. If he goes on welfare, the government will pay him but bill Badwal since she sponsored him and is responsible for him for three years.
Badwal has already spent a lot on Shahi. Soon after they got married, he asked for financial help to be able to live properly. She started sending him $1,000 every month. In May, he asked her for more money so that he could buy his air ticket and gifts. "I remitted $3,000 to him and I have all the receipts," said Badwal, who was working for the Royal Bank till January, when her contract ended. She is hoping they will rehire her.
Cases of marriage fraud involving Indo-Canadians have been on the rise.
Ontario minister Harinder Takhar raised this issue with Prime Minister Dr Manmohan Singh when 27 Indo-Canadian lawmakers met him in Toronto last month on the sidelines of the G20 Summit. Singh promised to look into this on his return to India.
Image: Ashpreet Badwal with Manjit Shahi