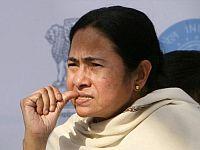 In a new twist to its stand off with West Bengal government over panchayat polls, the State Election Commission on Monday moved the Calcutta High Court seeking cancellation of the dates notified by the government.

In its petition, the commission claimed that Section 42 of the West Bengal Panchayat Election Act, which states that the state government is empowered to notify election in consultation with the commission, is unconstitutional.

Justice Biswanath Somadder, before whose court the matter was mentioned, directed the commission's counsel L C Bihani to get the matter listed for hearing.
The petition, which was filed on Monday, is likely to be listed for hearing on Tuesday.
The commission also prayed that it be allowed to seek and deploy as many number of paramilitary and other central forces as it may feel necessary for holding of the panchayat polls.
State panchayat minister Subrata Mukherjee had earlier said that the commission's demand for 800 companies of central forces was absurd and unnecessary for conduct of panchayat elections in a state, while asserting that law and order in West Bengal was better than in any other state.

While the state government, contending that it had the power to notify panchayat elections under section 42 of the state Panchayat Act and as such notified the election in two phases on April 26 and April 30, the poll panel refused to budge.
There have been sharp differences between the government and the SEC over the number of phases of the elections with the poll panel preferring more than two phases.
They have also differed in the selection of districts for the different phases of elections, apart from the issue of central forces.
The state BJP has also filed a petition before the high court praying that sections 42 and 43 of the state Panchayat Election Act be declared unconstitutional.

This matter is also likely to be taken before the court of Justice Somadder on Tuesday.