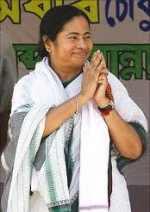 Saying she was "sorry" for the police-villagers clash at Loba village in Birbhum district, West Bengal Chief Minister Mamata Banerjee on Wednesday denied it had anything to do with land acquisition and said the police had shown patience in dealing with the situation.
Giving her first reaction on Tuesday's clash in which 27 policemen and six villagers were injured in a pitched battle, Banerjee told reporters, "Whatever has happened there, should not have happened. I am sorry for it".
However, she said the villagers, who had attacked a police team with bows, arrows and bombs when it came to recover an earth-moving machine seized by them, were not at fault, and claimed they had been instigated by some people.
"An administrative inquiry has been ordered and the Birbhum Superintendent of Police has been asked to go on leave. Whoever is found guilty, will be punished," she said.
"I am with the villagers and we will give protection to them. Industry minister Partha Chatterjee has been sent there to get information regarding the incident. The incident has nothing to do with land acquisition. The government's policy is not to do anything with force. False propaganda is being spread," Banerjee said.
She said the condition of three policemen was very serious and that the police had shown restraint and did not over-react. There was no firing by the police, she insisted.          
Leader of the Opposition Surjya Kanta Mishra claimed on Tuesday that the police had opened fire, while the Congress demanded a Central Bureau of Investigation probe into the incident.
The chief minister said the police there acted on its own and she had no prior information about the situation, but promised that the matter would be peacefully resolved.
Industry minister Partha Chatterjee told reporters that the villagers had no direct involvement in the incident and blamed the Communist Party of India-Marxist and a section of the Congress for instigating the clash by distributing bows and arrows fetched from outside. He said only an investigation would reveal what had actually happened.
West Bengal Home Secretary Basudeb Banerjee had on Tuesday said DVC-EMTA was working on a project in the area and there was some dispute with local people after which villagers had seized the earth-moving machine.
He said the injured were being treated at Suri hospital and Burdwan Medical College Hospital.
C Muralidhar, detective department's deputy commissioner of police (special), has been asked to take charge of Burdwan for the time being, Additional Director General of Police (law and order) Surajit Kar Purkayastha had said.