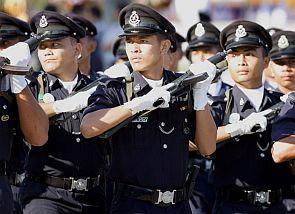 Malaysian police on Monday claimed that the recent death of an ethnic Indian man in a lock-up was not due to torture.
The death of 43-year-old P Karuna Nithi, an inmate at the Tampin lock-up on Saturday has nothing to do with police brutality, senior police officer Osman Salleh said.
He said, a coroner and a pathologist had examined the body of Karuna Nithi and both had said there were no bruises or external injuries on the deceased to suggest abuse.

"We are waiting for the final post-mortem report to see if the deceased suffered any internal injury. But as of now, the pathologist is unable to establish the cause of death," he told reporters here, the Malaysian Star reported.

Police said the jobless man had been well taken care of when he was in the lock-up and there were CCTV recordings to prove this.
Police had detained Karuna Nithi on May 28 after his wife lodged a report that he had assaulted her after a quarrel at home.
The deceased had also lodged a report earlier in the day admitting that he assaulted his wife due to verbal abuse.
Karuna Nithi was found unconscious in his cell on Saturday and later died.
Police said if the suspect had been assaulted by cops while in lock-up, he could have reported it to the authorities when he was brought to court to be remanded and later when he was charged.

"His brother had also been visiting him while he was in the lock-up and not once did he claim that he was assaulted," Osman said.