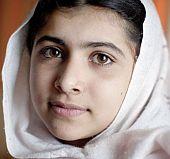 Malala Yousafzai, the Pakistani school girl shot in the head by the Taliban for campaigning in favour of women's education today won an award instituted in the name of Russian journalist and human rights activist Anna Politkovskaya.
"Defying the strict ban imposed by the Taliban on girls attending school, Malala refused to be silenced in the face of grave danger, just like Anna Politkovskaya did," the organiser Reach All Women in War, said.
Politkovskaya, a journalist and human rights activist known for her opposition to the Chechen conflict and a critic of Russian President Vladimir Putin, was assassinated on October 7, 2006 in Moscow.
Malala was only 15 years old when she was shot by the Taliban on October 9 last year.
"Ahead of the anniversary of Politkovskaya's murder on Monday, October 7, we honour Malala with the 2013 Anna Politkovskaya Award for her courage to speak out when nobody else dared, for her strength to give a voice to the many women and girls, whose voices cannot be heard, and for her passionate belief in promoting education for girls," the organisers said.
On accepting the award Malala said, "Politkovskaya was a dedicated journalist and human rights activist. She campaigned passionately about issues, which concerned her. She spoke out about causes, which other people dared not speak about. She was brave and an inspiration.
"I am extremely proud to have been chosen to receive an award, which bears her name and hope that I may be as brave as she was. I greatly admire Anna s dedication to truth, to equality, and to humanity," Malala said.
"The RAW in WAR Nominations Committee for the 2013 Anna Politkovskaya Award was deeply humbled by the bravery and courage of Malala and by the determination with which she continues her campaign for education for girls, despite the threats she faces. She lives a life of courage and truth-telling in the face of grave danger, as Anna did," an announcement by the award committee said.
On Malala receiving the 2013 award, Lord Frank Judd, a member of the 2013 Award Nominations Committee, said," I am convinced that Anna would have been delighted. The courage and effectiveness of Anna and Malala are a huge challenge to us all. Anna Politkovskaya was a journalist in her forties, when she wrote against human rights abuses; Malala is only 16 and still continuing her education."
However, like Anna, Malala believes that a pen is a powerful weapon and that education can stop people from falling for ideologies of hatred and violence, Judd said.
Like Anna, Malala did not call for violence or revenge against those, who attacked her and compassion, tolerance and peace were principles that she held high in her life.