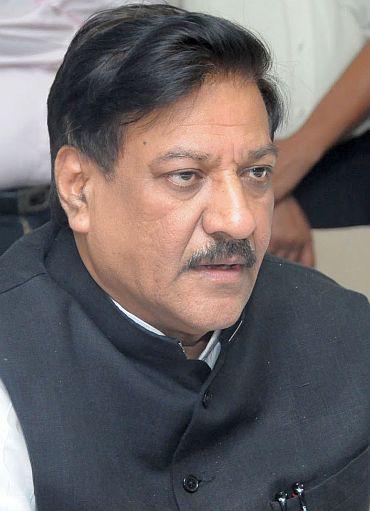 Studied silence at high command won't help party revival to face assembly polls. Sanjay Jog reports.
Congress ministers, members of Parliament, legislators and party workers in Maharashtra are anxiously waiting for an early decision from the high command over the fate of Chief Minister Prithviraj Chavan and state unit chief Manikrao Thakre so that they can gear up for the assembly elections slated for October.

Congressmen expect 'bure din' (bad days) ahead for the party if no substantive actions are taken for its speedy revival after the crushing defeat in the Lok Sabha polls.

"As of now, Chavan is the chief minister and he is going to lead the party in the coming Assembly election. But the party high command should make it amply clear that Chavan won't be removed and the anti-Chavan movement will not be further entertained. What is worrying is a studied silence at the high command level," a senior minister, who did not want to be identified, told Business Standard.

He noted that the uncertainty was quite dangerous and might not help the party to take on the opposition in the assembly election.

However, when asked about indecision by the Congress high command on the issue of change of leadership, the Congress' national spokesman said, "No decision is good decision."

A fortnight ago, hectic parleys were on here and in Delhi for a possible change in leadership. However, the anti-Chavan activities seemed to have died down after ministers, MPs and legislators expressed their views before the A K Antony-led committee on June 28. Former chief ministers Narayan Rane and Ashok Chavan and a host of leaders, who appeared before the Antony committee, had already made a strong case for the removal of Chavan.

They are believed to have argued that Chavan had failed to weather the Modi wave and his slow pace of decision-making had adversely impacted the party in general.

Meanwhile, the Congress' ally, the Nationalist Congress Party has clarified that it had never demanded Chavan's removal, saying that it was the Congress' internal issue. However, NCP has become active to face the ensuing assembly poll.
NCP has already changed the state unit chief and appointed former water resources minister Sunil Tatkare. NCP chief Sharad Pawar has already held series of meetings with party ministers and district leaders to put in place party's poll strategy.
Image: Maharashtra Chief Minister Prithviraj Chavan