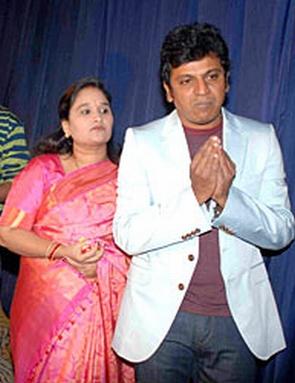 Her political rivals have taken strong objection to Geetha Shivrajkumar's relentless milking of her father-in-law's legacy, says Vicky Nanjappa
Geetha Shivrajkumar -- daughter-in-law of Karnataka's beloved filmstar Dr Rajkumar -- is the Janata Dal – Secular's candidate from Shimoga constituency.
She has been pitted against former chief minister and Bharatiya Janata Party strongman B S Yeddyurappa in the latter's bastion.
During her campaign, Geetha has been invoking her late father-in-law who, incidentally, had steered clear of politics.
Geetha is the daughter of former chief minister S Bangarappa and she is married to superstar Shivrajkumar.
The political ride has not been smooth for Geetha so far.
Many of her family members had opposed her entry in politics as they wanted to maintain the legacy of the late megastar and not tarnish it with political affiliations.
Shivrajkumar, unlike his brothers Raghavendra and Puneeth, does not stay in the family's sprawling bungalow in Bengaluru.
Many believe that Geetha instigated her husband to move out of his family home.
Surprisingly, Geetha's own brother Kumar Bangarappa, a former state minister, has attacked her over the issue.
"Her intention is not to serve the people but to finish me politically. I had expected her husband to stop her from joining politics. If Dr Rajkumar was still alive, she would have never dared to enter politics," Kumar Bangarappa recently told media personnel.
Geetha has chosen not to react to such personal attacks. She claims that she has joined politics to -- what else? -- "change the system".
"People are fed up with the system and I want to make a change," she claims.
Her political rivals have taken strong objection to Geetha's relentless milking of her father-in-law's legacy; she even usedssongs from his iconic films in her political campaign.
They have lodged a complaint before the Election Commission, saying she cannot keep on using Dr Rajkumar's name and his songs as he belongs to the entire state, not to a particular political party.
Meanwhile, her brother-in-law Puneeth Rajkumar has refused to campaign for her.
"I have nothing against her, but my father stayed away from politics and I shall continue the same tradition," he says.
Though Geetha has become more cautious about using Dr Rajkumar's name now, she does mention her father Bangarappa frequently.
"I shall not indulge in a negative campaign against my opponent B S Yeddyurappa, who is a very senior leader. I have a lot of hope in the voters of my constituency and I am sure they will get me through. I will continue to be in politics irrespective of the result," she says.
Her husband Shivrajkumar is quick to defend her decision to join politics.
"My father never entered politics, but he never stopped anyone from doing so. I personally feel that we need more women in politics," he claimed.
The Congress has fielded a weak candidate in Shimoga to ensure that the electoral battle is virtually a direct one between Geetha and Yeddyurappa.
Interestingly, in the 2007 assembly elections, Yeddyurappa had fought against Geeta's father Bangarappa from Shikaripura constituency in Shimoga.
While Bangarappa was contesting on a Samajwadi Party ticket, the JD-S decided not to field a candidate and the Congress fielded a weak one.
Bangarappa, considered a sure-fire winner as he had never lost an election in his life, was trumped by the then chief ministerial candidate.
In fact, in a political move that paid rich dividends, Yeddyurappa decided to focus on Shikaripura during the campaign, in spite of the party urging him to campaign in other parts of the state.
This time around, Yeddyurappa claims he is not too worried about the competition posed by Geeta.
He has started telling members of his constituency, albeit indirectly, that once the Bharaitya Janata Party comes to power at the Centre, he will become a Union minister in the Narendra Modi-led cabinet.
Image: Geeta with her husband Shivrajkumar