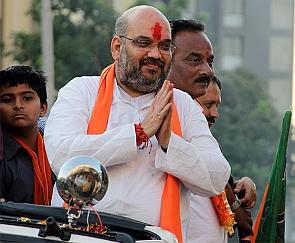 Amit Shah is likely to be made poll in-charge in Congress-Nationalist Congress Party ruled-Maharashtra to repeat Uttar Pradesh's 'success'. Sanjay Jog reports
After organising the Bharatiya Janata Party's election activities in Uttar Pradesh, Amit Shah, a close confidant of the BJP's prime ministerial candidate Narendra Modi, is expected to take charge of party activities in Maharashtra, ahead of the state assembly elections slated for September-October.

Special Coverage: Election 2014
Shah will be mandated to ensure the BJP achieves its objective of "shat pratishat (100 per cent)", with 288 party members in the assembly. During the 2009 assembly elections, the BJP had won 47 seats.
Though the BJP-Shiv Sena combine, which ruled the state during 1995-1999, faced three successive defeats, the party feels this time, it can successfully ride on the "Modi wave", with Shah as poll coordinator.
Buoyed by the BJP's stellar show in Maharashtra, as indicated by various exit polls, the party believes Shah will be instrumental in effective coordination ahead of the assembly polls. Exit polls also showed the party fared well in Uttar Pradesh under Shah's supervision.
On condition of anonymity, a state BJP leader told Business Standard, "The BJP will be quite keen to increase the number of party-ruled states across the country. Maharashtra certainly tops the list, and Shah can play a crucial role in achieving the target. Further, Shah, who enjoys Modi's support, will be able to keep all intra-party groups together and cash in on anti-incumbency. With Shah supervising the poll management, the party and the Rashtriya Swayamsevak Sangh will be proactive to reach out to most voters up to the booth level."
He, however, added the final decision on Shah's role would be taken at the party's highest levels.
A former minister said in the days to come, the BJP wouldn't want to play second fiddle to the Shiv Sena. "At the centre stage, Shah will be able to help the party during seat-sharing talks with the Shiv Sena. All efforts will be made to change the seat-sharing formula of 169-119, implemented during the 2009 assembly polls. The BJP will try to get a lion's share in seat-sharing," he said.

Image: Narendra Modi aide Amit Shah