In the Inner Manipur constituency, which goes to the polls on Thursday, the Communist Party of India candidate is backed by the Bahujan Samaj Party, Shiv Sena, et al. Nitin Sethi reports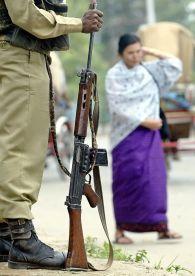 As you travel further east of the Chicken's Neck, the political, social or economic logic that works in "main land" India often fails. It's well captured in the electoral alliances that have been stitched in the Inner Manipur constituency, which goes to the polls on Thursday.

Fighting against the incumbent Congress candidate is Moirangthem Nara Singh of the Communist Party of India. He is backed by an alliance and political understanding one would find impossible to imagine anywhere else in India -- the Nationalist Congress Party, the Bahujan Samaj Party, Janata Dal-Secular, Shiv Sena, the Revolutionary Socialist Party, People's Democratic Alliance and the Forward Bloc.

Nara Singh, a homeopathic doctor, is pitted against a mathematician and two-time Member of Parliament Thokchom Meinya Singh (Congress) and the Bharatiya Janata Party's R K Ranjan Singh, an environmentalist and rights activist.

The Inner Manipur constituency is dominated by the Meitei people, who form the majority in the valley parts of the state. With two days to go for polling, Tuesday was the last day of campaigning and also the first day of the Meitei New Year, celebrated as Cheiraoba.

Political door-to-door campaigning is switched off by all sides for the day to let people enjoy the traditionally important festival, when homes are cleaned and special dishes prepared for the family. Most markets remain shut, too.

Just two days ago, two bombs blew in two parts of Manipur's capital. One near a minister's house and another in a locality called Wanghkhei. No one is injured and no one is overtly disturbed in the city, which is disturbingly used to guns, violence and blasts.

Conversations about the blast quickly turn to "other mundane" conversations after a bit of a pause and rumination over what the children in the region are growing up used to. Held captive to the political economy of armed groups, draconian policing laws and one too many "foots on the ground" by the state, those who can afford, prefer to send their children out to study. Delhi and Bangalore are favourite destinations.

Back in Imphal, food is always an easy topic. Especially on Cheiraoba day. The Meitei cuisine lays out an elaborate variety. The sheer variety of vegetarian food the community has learnt to generate is thanks to the biodiversity-rich land filled with edible herbs, roots, tubers, flowers, buds, stems, leaves, vines and mushrooms. Of course, these can be had fresh, dried or fermented. Then there is fish. Dozens of variety and again -- fresh, dried or fermented. Meat, too, is available fresh or smoke dried.

On Cheiraoba day, the markets are closed. It's hard to find much except for daily snacks that Ima (mothers) sell through roadside kiosks. There is another thing hard to find in Imphal -- any hoarding by political parties. Forget finding a Narendra Modi or a Rahul Gandhi waving at you from various corners of the town or discerning any wave that media finds and demolishes each day in the rest of India. Political campaigning remains understated though hectic. But just like much else, the campaigning does not mimic the way it is conducted in most parts of India.

A day before the polling, a bandh has been called by an underground group. The two economies -- above-board party politics and armed conflict -- run in parallel here. Many tell you that they thrive on each other, too. So easily and so regularly that it doesn't merit a conversation with the people here. On Thursday, the people of Inner Manipur constituency will choose another Parliamentarian for themselves.
Image: A Paramilitary soldier stands guard beside a busy street in Manipur
Photograph: Jayanta Shaw/Reuters