Crossing into the country from Bangladesh to seek a livelihood, illegal immigrants are being handed valid documents by political parties in West Bengal and Assam, transforming them into a crucial vote-bank. Vicky Nanjappa reports.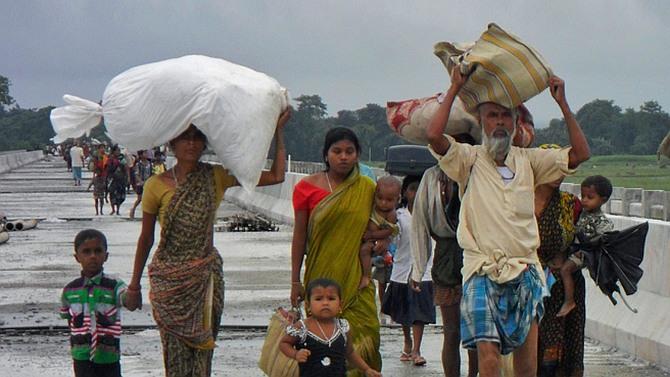 'Sir please let me go back to my state and vote otherwise I shall be sent back to Bangladesh,' says a worker from Assam to his supervisor at a coffee plantation. Shocking as it may sound, this statement is not a one-off exception, revealing how economic migrants coming in from Bangladesh are playing a major role this election.
Complete Coverage: Election 2014
This is the case for many economic migrants from Bangladesh, who come to India with the hopes of seeking employment and a livelihood. On their entrance in the country, mostly into Assam or West Bengal, they are issued voter identification cards and then instructed to vote for a particular party, failing which they will be sent back to Bangladesh.
According to Intelligence Bureau sources, even though officially there are 1.5 lakh illegal migrants, there are several thousand more that are unaccounted for, who have valid Indian documents. And C D Sahay, former chief of the Research and Analysis Wing, says identifying them is not as easy as it seems, adding that it is the responsibility of each state government to determine the influx of these migrants and keep a tab on them.
IB sources said that on their entry into the country, members of political parties issue them with valid Indian documents, such as a driver's licence and a voter ID card. Most of the times, in places such as West Bengal or Assam, the migrants don't even have to bribe the officials for the documents, as officials hand out these papers, free of cost.
Armed with the valid papers, they then go off to different locations in the country after a 'contractor' allots them work and it is these contractors that warn them that failure to vote would lead to them being shipped off to Bangladesh.
Sources within the IB further added that in the last two years there has been an increase in the number of such migrants in the South, where there is a shortage of labourers at coffee and tea plantations. And whereas the problem in the South is relatively a new trend, it is a severe problem in the North, where these workers take up jobs as construction labourers and domestic help.
Authorities said that there are several problems that arise out of this situation. Firstly, these migrants are ready to work at meagre salaries, depriving the locals of job opportunities. Secondly, issuing them with valid documents only adds to the population of the country, which is already bursting at the seams and lastly, they raise the issue of law and order. IB sources explained often they are used as foot soldiers in terror organisations or are recruited into criminal activities.
IB added that the Centre's success on solving this issue of illegal immigrants with valid papers would be very dependent on the support given by the state governments in West Bengal and Assam.
Image for representational purposes only.