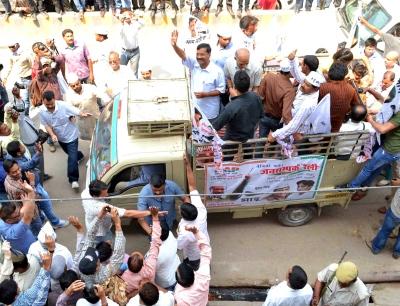 On the second day of his visit to Varanasi, Aam Aadmi Party leader Arvind Kejriwal on Wednesday undertook a road show in the rural parts and interacted with villagers, including farmers, in a bid to make inroads in the temple town where he is facing a formidable rival in the Bharatiya Janata Party's Narendra Modi.
The AAP road show, undertaken in areas of Shevpuri and Rohania assembly segments, evoked a mixed response from the locals, a day after eggs were thrown at Kejriwal and ink splattered at him.
While he made short stops in villages, he tried to hard sell his party and convince people on why they should not vote for BJP and Narendra Modi. He stopped at a couple of villages, mostly with AAP supporters, where he asked for their problems. In Harpur village, he halted to meet the pradhan of the village and asked about day-to-day issues.
"He asked me about what kind of crops are being grown here and the problems faced by us," said Babulal Rajbhar, Harpur's pradhan and an AAP supporter. Further in Kardhana, he told nearly 150 villagers about the plight of farmers in Gujarat and that if Modi comes to power, land will be "snatched" and given to "industrialists".
"I had been to Gujarat and I saw that land was being taken from farmers at dirt cheap rate and given to 2-3 industrialists. If he comes to power, even your land will be taken and given to some industrialist. If people of Varanasi elect Modi, then country will say what kind of leader have you chosen," Kejriwal said.
"This is a new party (AAP). The tempo is just building up, but the youth are getting connected. Modi is also strong here. Let's see how it goes," said Satyanarayan Kesari, shopkeeper at the Badura village, sporting an AAP cap.
Unlike on Tuesday, his campaign was largely trouble-free on Wednesday except in Harpur village, where pro-Modi supporters showed him black flags. However, several party men had altercation with the cops due to the heavy deployment of the Provincial Armed Constabulary for the road show.
As the AAP national convener moved around, his party's trademark cap and broom were a hit among the young and the elderly alike. As the convoy, along with his supporters, made their way through dusty roads of villages here, he tried hard to convince people about his new party and its agenda. Kejriwal's volunteers following him cars and mini buses kept distributing caps and brooms to the villagers.
AAP caps, with taglines of 'Mujhe Swaraj Chahiye (I want Swaraj)' and 'Aam Aadmi Party Zindabad (Long Live the party)' and brooms have become an identity of the party especially in urban areas.
These are also something which the party uses to connect with the masses. They worked for the party well in Delhi assembly elections. However, in rural Uttar Pradesh where electoral politics still revolves around religion and caste, the AAP has been using its trademark objects to reach out to people.
"There are people who may not read the pamphlet, but the they will preserve the cap and also the broom. Ultimately, in voting what matters is the symbol," said a party worker distributing caps and brooms.
Seven-year-old Arbaz Ali, a Class I student of the village school, and his friends, kids queued along the cars as they stopped to get more caps. The women queued for brooms.
Image: Kejriwal at his roadshow in Varanasi. Photograph: Sandeep Pal