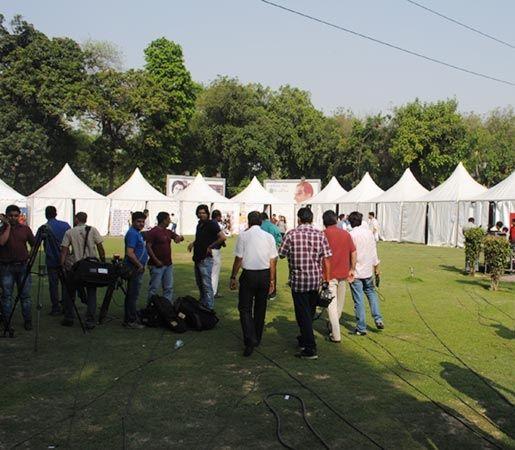 The Congress headquarters is deserted and has a forlorn look. The lawns had been taken over by the television channels. Each had his own air-conditioned tent. Congress spokespersons hovered around and kept popping in and out of these tents.
The cops allowed cars into Akbar Road where the Congress office is situated. On Ashoka Road where the Bharatiya Janata Party office is located the road was cordoned off. Even the cops knew who was winning!
What was surprising was the presence of a few youth outside the compound. They were carrying placards supporting Rahul and Priyanka Gandhi and were raising slogans in favour of the dynasty.
There were more cops and journalists than Congress workers. A security man told us happily, "Today no big leader is here, no one will come, we don't have to guard anyone."
The television cameras were following the few Congress known faces around.
Many of the people were just milling around aimlessly. They had just come to watch the fun. The minimal crowd also started drifting away. Media people also started heading towards the BJP office.
The Congress had come out with a duty roster for its spokesperson. So they had to be there for certain hours of the day. Everyone else had deserted the headquarters.
It will take the Congress decades to recover, but the dynasty may survive as even now some youth were raising slogans in their favour.
Image: Television crews on the lawns of the Congress office. Photograph: Reuben N V/Rediff.com