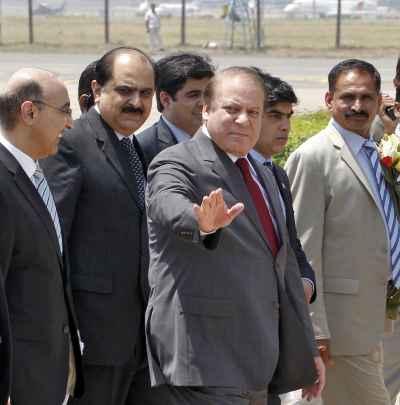 Pakistan Prime Minister Nawaz Sharif on Tuesday offered prayers at the historic Jama Masjid and visited the Red Fort in Old Delhi area.
Sharif, who arrived in New Delhi on Monday to attend the swearing-in ceremony of Prime Minister Narendra Modi, visited Jama Masjid, one of Asia's largest mosques, and Mughal era monument Red Fort along with other members of his delegation.
The Pakistan Prime Minister will later hold bilateral talks with Modi during which both sides are expected to discuss ways to enhance bilateral cooperation, before leaving for Pakistan.
Sharif had said yesterday that he intends to pick up the threads with India's new leader Modi from where he and then Prime Minister Atal Bihari Vajpayee left off in 1999.
The Pakistan prime minister had said that both governments have a strong mandate and this could help in "turning a new page in our relations".
Sharif's visit is seen as significant by political observers here given that hardline elements in Pakistan have expressed their unhappiness over his responding to the invitation positively.
Sources said it is expected that the Pakistan leader will also extend a formal invitation to Modi for a visit.
No breakthrough is expected during the visit but it will provide the two leaders an opportunity to cultivate personal relations which may go a long a way in reducing tensions.
Image: Pakistan's Prime Minister Nawaz Sharif waves upon his arrival at the airport in New Delhi on Monday.
Photograph: Reuters