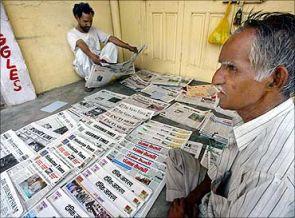 Terming Maharashtra as "the capital of paid news", Election Commissioner H S Brahma on Friday asked the media fraternity to stop this practice, which has attracted a lot of attention in the recent years and led to calls for self-regulation.
Brahma's sharp remarks at a press conference here led reporters to seek clarification from him. As this point, Chief Election Commissioner V S Sampath, who was also present at the meet, intervened and said, "We do not believe that this is a notorious place for paid news."
"A large number of paid news emanates from your state. It is known as the capital of paid news. Don't get into this paid news thing. Stop paid news," Brahma said at the conference.
Referring to the complaints made by some regional and small parties, he said, "I must tell you honestly, when we had a meeting with representatives of political parties, three regional and small parties brought to our notice that they were being neglected (by media with regard to coverage)."
"Therefore, we request you to allow a level-playing field for all," Brahma said.