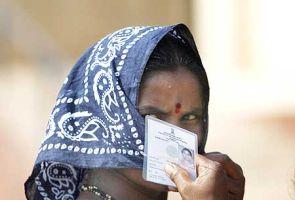 Thousands of students, school teachers and government employees created history of sorts in Muzaffarnagar as they formed a 120-km long human chain to spread word on the importance of vote in a democracy.
Carrying placards with slogans like loktantra me bhagya vidhata; hoga jagruk matdata; chorh ke saare apne kaam; pahle chalo karein matdaan, children and grownups stood along the main thoroughfares to generate awareness.
More than the number of people who lined up to express their solidarity with the cause, it was their passion that amazed everybody.
"I woke up at 6.30 in the morning to be here for this campaign," said Anuj, 13, of Mahesh Gyandeep School.
Gulfam, 17, a class 11 student from SD Intermediate College said, "Muzaffarnagar has been in the news for all the wrong reasons. That is why we felt encouraged to join this awareness campaign. I am sure that by ensuring a record turnout on voting day (April 10) Muzaffarnagar will erase the infamous tag of a riot-torn town."
Gulfam held a placard that read 'Main chala, tum chalo; hum chalein Aap chalein; 10 April ko vote dalein'.
Achin Agrawal, a teacher at Mahesh Gyandeep School hoped that this unique campaign would have its desired impact. "I am confident this time Muzaffarnagar will witness a 70-75 per cent voter turn out."
District Magistrate Kaushal Raj Sharma, the brains behind the campaign, believes his efforts will bring the desired result. "I can see the enthusiasm among people to vote and this campaign has given a further boost to that," he said.
Many feel that a good turnout would go a long way in washing away the scars of the riots that took as many as 62 lives in August-September last year. "We feared that the gory memories would dissuade people from turning out to vote. But we are hoping that today's exercise would motivate people to rise above their apprehensions. A big turnout would go a long way towards persuading people to give up their differences and restore the communal harmony which was always prevalent here," said 40-year-old Vikas Baliyan, a sugarcane farmer.
It was Rani Abbas, a well-known social activist, who gave a call for amity through a popular Bollywood number of the sixties 'chodo kal ki baatein kal ki baat purabi; naye daur mein likhenge, milkar nai kahani; hum Hindustani ! hum Hindustani'.
Image used for representation purpose only