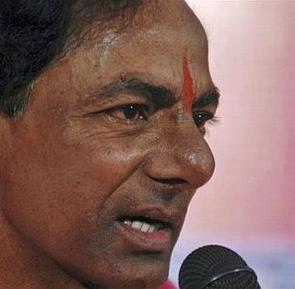 Notwithstanding exit polls giving a clear mandate to the Bharatiya Janata Party-led National Democratic Alliance the Telangana Rashtra Samithi on Friday said the party still prefers to support a Congress-led United Progressive Alliance government at the Centre.
TRS chief K Chandrasekhar Rao's daughter and party leader K Kavitha also said that the party is unlikely to support an NDA government as it believes that a "secular government should be in place" at the Centre.

Special Coverage: Election 2014
"In general, in a democracy like India, we believe that a secular government should be in place, so if at all UPA has a chance, we will back UPA otherwise if the Third Front has a chance, we will back the Third Front," Kavitha, who is also party candidate from Nizamabad Lok Sabha constituency, said.
A day before the counting of votes, she said that the TRS has always maintained that it was the effort of Congress President Sonia Gandhi, which paved the way for the formation of Telangana.
A TRS tie-up or merger with the Congress did not happen before the elections as the party had issues with the local Congress leadership, Kavitha said.
The Congress and TRS were engaged in a bitter war of words during the election campaign. Polling concluded in Telangana on April 30. Rao has expressed confidence that the TRS would get absolute majority to form the first government in the new state of Telangana.
Asked about the chance of the TRS supporting an NDA government, she said, "Not really. But only hope that we have is if at all an NDA government comes into place, they should not ignore Telangana."
On the question of the TRS seeking support of other parties for forming the first government in Telangana, Kavitha expressed the hope that the Majlis-e-Ittehadul Muslimeen, which is expected to get nine seats in the assembly polls, will support the party.
"We have the MIM as well, which will easily get about eight to nine seats. The MIM will be there as an option. Congress of course is there," she said.
Kavitha said the TRS will receive support from "anything other than the Telugu Desam Party-BJP".

Image: TRS chief K Chandrasekhar Rao