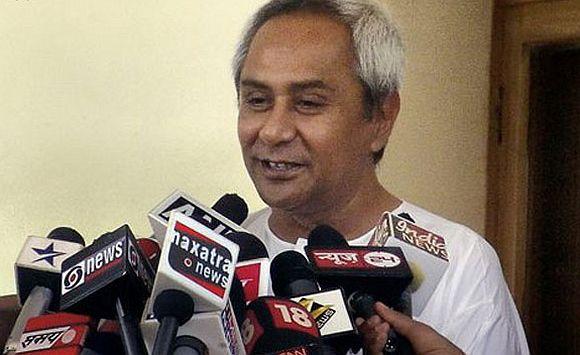 The three-time chief minister of Odisha, Naveen Patnaik is entering the battle of ballots with a cash of only Rs 15,000 in hand.
Similarly, Patnaik owns only a 34-year-old model Ambassador car -- inherited from his father -- whose current value is estimated at about Rs 20,000.
These are some of the details of the personal assets of Patnaik revealed from the properties list filed along with his nomination document for the Hinjili assembly constituency in Ganjam district.

He is seeking re-election from this seat for fourth time in a row.
The total value of Patnaik's assets has, however, swelled by Rs 4 crore from Rs 7.98 crore to Rs 12.06 crore between 2009 and 2014. This increase is because of appreciation of property value instead of acquisition of any new property.
The properties owned by Patnaik includes movable assets of Rs 17,75,433 and immovable possessions worth over Rs 11.88 crore as per the affidavit filed by him.
The immovable properties mainly pertains his share in the land and buildings owned jointly with his brother and sister. His total income stood at Rs 10,74,080 as per his last income tax return filed on March 31, 2013.
The BJD supremo has Rs 14, 23,281 in bank accounts spread across several branches of four nationalised banks, including one in his home turf Hinjili.
The chief minister also possessed jewellery worth about Rs 2,12,252. He, however, did not mention details of the jewellery items. The chief minister owns 22.7 acres of farm land and building at Tikri Khera in Faridabad district whose current market value is estimated at Rs 3,43,34,000.
Besides, he has two-third share in his Bhubaneswar residence, Naveen Niwas, one-third share in Ananda Bhawan building at Tulasipur in Cuttack and 50 per cent share in Aurangzeb Road house in New Delhi - all these properties belonging to his father, late Biju Patnaik.
The market value of Naveen Niwas, sitting on 2.133 acres land, was around Rs 2.80 crore as on March 31, 2013. Similarly, the approximate value of Ananda Bhawan built on 0.533 acre land and the New Delhi residence on 1,111.19 sq metre land are estimated at Rs 51-lakh and Rs 5.14 crore respectively