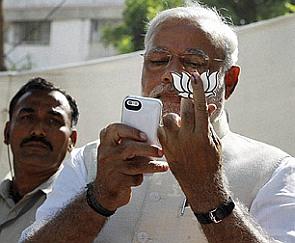 A day after BJP's Narendra Modi was booked for making a speech at a polling booth while displaying the party's election symbol in violation of electoral laws, a preliminary probe by the Gujarat police has found he addressed the gathering outside the restricted 100-metre radius.
"Our preliminary probe (has) revealed authorities had marked that limit with a white strip outside the booth,and the press conference was outside that limit," said a senior officer of the Detection of Crime Branch of Ahmedabad's police, which initiated the investigation on Thursday.
The model code for elections prevents canvassing within 100 metres of polling stations.
Complete Coverage: Lok Sabha Election 2014