The four Left parties, which had won 24 seats in 2009, are seen bagging 14-20 this time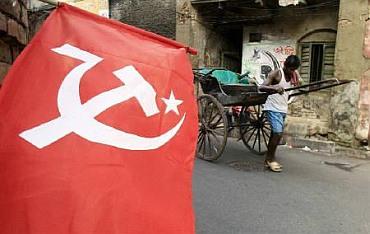 The Left parties are staring at further erosion in their vote share and seat tally even from the modest level of 2009, according to various exit polls. The four Left parties won 24 seats last elections and are seen winning 14-20 this time.
Left parties, however, are putting up a brave face, expecting to improve on their 2009 tally.

While Communist Party of India (Marxist) General-Secretary Prakash Karat says exit and opinion polls have lost their credibility, Communist Party of India Secretary D Raja says, "like paid news, surveys have become paid surveys."

Left parties expect a tally in excess of 25. For the record, though, they say they do not believe in predicting election outcome as "we should not take people for granted".
In an otherwise gloomy scenario painted by exit and opinion polls, what might please Left leaders is the fact that they are seen maintaining their seat share in West Bengal, despite apprehensions of a massive erosion in the state.

That's what one of the polls suggests.

According to Times Now-ORG, Left parties are expected to win 15 seats there, the same number as last time.

However, the Left might have to suffice with the same number of seats in Kerala, too.

In the previous elections, the Left parties had won four seats in the state but were expecting a significantly better performance this time.
However, that seems unlikely according to CSDS-CNNIBN poll.

The Left parties are likely to witness further decline in their erstwhile fortress of West Bengal. What should worry Left parties even more is the prediction that their national vote share could fall to a mere four per cent from 7.6 per cent in the 2009 Lok Sabha elections.

Such a massive erosion in vote share does indicate that the Left will have a hard time maintaining the modest level of 2009.
But undeterred by a possible electoral rout, Left leaders do expect to play a role in future government formation as they do not see any coalition winning absolute majority on its own.

"One visible trend is that the Congress is going to lose power. We have worked to bring all non-BJP, non-Congress parties together. The Left will play its role considering its own numbers to bring a pro-people alternative," says Raja.
However, if exit poll results indeed turn out to be true, or even closer to what is in store on May 16, the counting day, the Left parties will have to do some serious introspection to regain their relevance in national politics.