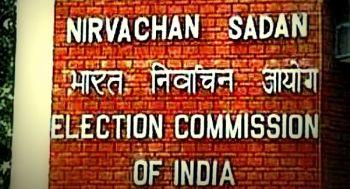 In a sudden late Wednesday night development, the Election Commission gave marching orders to 22 district magistrates, 19 district police chiefs and three DIGs of police in Uttar Pradesh.
Disclosing this at a specially convened press conference around 9 pm, state chief election officer Umesh Sinha said, "These officials have to be removed from their present postings latest by 11 am on March 28".
This follows the visit by top EC officials in Lucknow last week when leaders of different political parties met them. Many of them had expressed their reservations against several DMs and SPs, whose impartial and objective working was under doubt.
It was alleged that these officials were likely to be influenced by the ruling political dispensation which was why they were posted at the respective districts.
The districts from where DMs are to be removed are Deoria, Maharajganj, Mahoba, Mau, Meerut, Sambhal, Sant Ravidas Nagar, Sobbhadra, Amroha, Bahraich, Banda, Chitrakoot, Etah, Firozabad, Gonda, Jhansi Kaushambhi, Lalitpur, Mainpuri, Pratapgarh, Rampur and Shahjahanpur.
The district police chiefs to be shunted out are those of Sultanpur, Sant Ravidas Nagar, Rampur, Pratapgarh, Gonda, Ghaziabad, Fatehpur, Farrukhabad, Etah, Chitrakoot, Banda, Balrampur, Allahabad, Aligarh, Sidharthnagar, Mau, Jhansi, Jaunpur and Bahraich.
According to EC's orders, the DIGs of Banda, Gonda and Jhansi were also to be transferred by the given deadline of March 28.
The news has come as a shock to the ruling Samajwadi Party party. Its spokesman was however not available for comment.