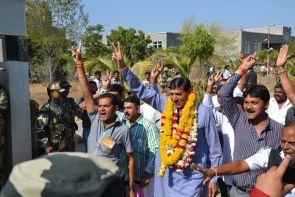 Bharatiya Janata Party's Rajkot candidate, Mohan Kundariya, who had found himself in a controversy after he walked over some school children at a function, is likely to go unpunished. An enquiry into the issue by the chief of Rajkot District Social Protection Department, which will be submitted on Friday, says Kundariya may not have been at fault.
Kundariya, who was caught on camera walking over the backs and chests of young boys at a private function, defended his act, allegedly following orders from the CMO, saying he was "emotionally forced" by the youngsters to "walk" on their bodies because they wanted to test their physical strength as part of their yoga exercises. He said they were not kids but teens. He said he was ready to apologise if his "innocent action" had hurt people's sentiments.
Kundariya's act on the eve of the elections may have got him some publicity, but it did not amuse the BJP leaders. They blamed the Congress for blowing the whole issue out of proportion.
"Even if you believe for a moment that the Congress had a hand in the matter, those giant feet were definitely Kundariya's," said a Congress leader. "I'm surprised the BJP didn't say Pakistan was behind it."
Two days after a complaint was lodged with the National Commission for Protection of Child Rights, the Rajkot District Collector Rajendra Kumar ordered a probe. Kumar ordered Kanaksinh Zala, the chief of Rajkot District Social Protection Department, to conduct an inquiry to ascertain the age of the boys and whether it was a genuine yoga progamme.
Zala, who was asked to submit his report in three days, took nearly a week to complete it saying he couldn't go through the CD of the event, as the organisers failed to produce it on time. Zala told Rediff.com that Kundariya did not have the time to meet him to record his statement because of election-related work and travel.
Zala recorded a statement of the Swabhiman Seva Trust chairman Lakshman Patel. "Patel told me that only a human pyramid and yoga exercises were part of the programme. He said Kundariya came at the last moment and the boys made a human bridge and asked him to walk over them," he said.
Pleading ignorance of everything, Kothari Swami, the head of Swaminarayan Temple, told Zala that he was "completely unaware" of what happened. He said he had "nothing to do with whatever happened at the programme".
Zala said he went to Tankara to interview the boys, their two trainers and principal, Ramdev Shastri of Swami Dayananda Saraswati Vidyalaya. "I met all the 14 boys and found that they were above 18 years. I checked their date of birth, too. I found them healthy and energetic. Most of them said they're pursuing their BA and MA," said Zala. "The boys unanimously said the human bridge on which Kundariya walked was not part of the original programme. It was formed only after his arrival."
When the investigating officer reviewed the CD he found everything in accordance with what the boys and others had told him.
"Kundariya said the boys knew him because he also belonged to Tankara. He said they were delighted to see him at the function and casually asked him to walk on them as they wanted to test their physical strength," said Zala.
Zala is likely to submit his report to the collector on Friday.
Image: Bharatiya Janata Party's Rajkot candidate, Mohan Kundariya
walked all over some young school children.