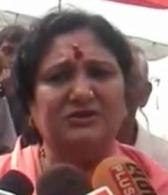 Uttarakhand minister Amrita Rawat, wife of Satpal Maharaj who recently left Congress to join the Bharatiya Janata Party, was on Monday sacked by Chief Minister Harish Rawat from the state cabinet and an Independent member of Legislative Assembly was sworn in as minister.
The development came as trouble brewed in the ruling Congress with a section of leaders questioning her loyalty after the party's Lok Sabha poll debacle. However, a defiant Amrita hit back, saying it was the chief minister who should go taking moral responsibility for the defeat.
Special Coverage: Election 2014
Governor Aziz Qureshi accepted the recommendation by Chief Minister Harish Rawat for Amrita's removal, Chief Secretary Subhash Kumar said. Amrita was the tourism minister and also held other portfolios such as Culture and Women's Empowerment, among others. The portfolios held by her will remain with the chief minister till he decides to allocate them to someone else, Kumar said.
According to the CM's close aides, Amrita had been asked to step down soon after Congress lost all five Lok Sabha seats in Uttarakhand. However, as she did not step down on her own, she was sacked, they said.
Independent MLA from Tehri Dinesh Dhanai was sworn in as a Cabinet minister hours after Amrita's expulsion. Cabinet minister Harak Singh Rawat, a Harish Rawat loyalist who lost to the BJP's B C Khanduri from Pauri-Garhwal seat, had recently demanded Amrita's resignation accusing her of not campaigning for him wholeheartedly.
Soon after Amrita received the message about her removal, she launched a bitter tirade against the chief minister, saying it was he who should have resigned on moral grounds following the party's rout in the state.
Citing the example of Assam Chief Minister Tarun Gogoi who has offered to resign after Congress' defeat in the northeastern state, she said, "Instead of resigning himself, he has expelled a woman member from the Cabinet.
"People of Uttarakhand would never forgive him for what he has done. It proves there is no morality left in him," she said. Though Amrita has been removed from the state Cabinet, she remains a Congress member in the House and so the development will not affect the party's numerical strength in the state assembly.
In the 70-member Uttarakhand assembly, the Congress has 33 MLAs and survives with the support of Progressive Democratic Front (an alliance of various parties, including the Bahujan Samaj Party, the Uttarakhand Kranti Dal and Independents).
Ever since Satpal Maharaj defected to the BJP in March this year, speculation was rife that over half a dozen MLAs bearing allegiance to him, including his wife, may create troubles after the Lok Sabha elections, especially if the party did not perform well at the hustings.
Acting with foresight, just a day ahead of counting, the chief minister elevated seven MLAs including some believed to be close to Satpal Maharaj as Parliamentary Secretaries in an apparent bid to keep his flock together.
He elevated a few more MLAs on Sunday before removing Amrita.