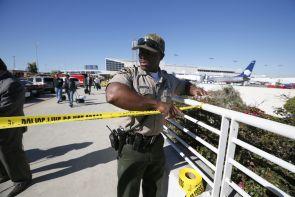 A security official was killed and several others injured in an unprovoked shooting incident on Friday at Los AngelesInternationalAirport, one of the busiest in the US, prompting authorities to evacuate two terminals and ground all planes.
A suspect has been shot and is in police custody after the shooting incident, reports said. The suspect was carrying a high-powered rifle.
A Transportation Security Administration (TSA) agent shot at the airport is dead, CNN reported quoting intelligence sources.
The gunfire and the airport's announcement of the incident provoked chaos among travellers.
Los Angeles Airport Police Chief Patrick Gannon said the gunman is believed to be the "lone shooter" in the incident.
"At this point, we believe, he was a lone shooter. We have done security sweep of the entire airport," said Gannon.
"Investigations still going on," he said. He said multiple victims have been shot and they have been shifted to a hospital.
Authorities believe the event is not widespread and is over.
"We believe this to be static situation now," Los Angeles Mayor Eric Garcetti said.
Meanwhile, some media reports claimed that the shooter was killed. However, law enforcement officials are yet confirm or deny the reports. According to another account, the suspect is being treated at a hospital.
Earlier, media reports said a person with a firearm at the airport approached a checkpoint at Terminal 3 and opened fire at a TSA agent. The gunman entered the terminal wearing military-like clothing.
The Federal Aviation Authority grounded all planes at the airport following the shooting incident.
The White House said President Barack Obama was briefed about the incident.
"The President has been briefed on the incident at Los AngelesInternationalAirport by Alyssa Mastromonaco, his deputy chief of staff, and he will be regularly updated on unfolding events there," White House Press Secretary Jay Carney told reporters in Washington.
Image: An airport police officer cordons off terminals 2 and 3 after a shooting at Los Angeles airport (LAX), California.
Photograph: Lucy Nicholson/Reuters