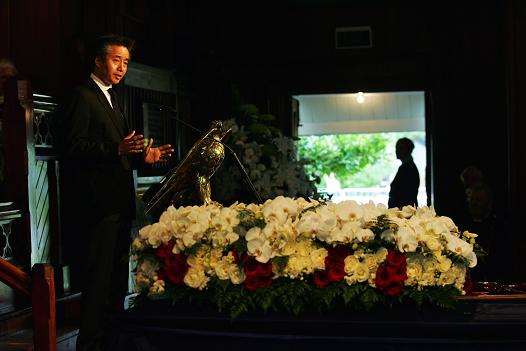 Over 500 international dignitaries attended the state funeral for Sir Edmund Hillary at St Mary's Church in Auckland, New Zealand on Tuesday. Thousands across the nation paid their last respects to the Mount Everest conqueror.
Hillary is best known for being the first climber to reach the summit of Mount Everest along with Sherpa Tenzing Norgay on May 29, 1953. The adventurer died of a heart attack on January 11 at the age of 88.
Dignitaries from India, Nepal, United Kingdom, Russia, United States, Australia, Canada and Ireland attended the funeral. The service was also attended by Norbu Norgay, son of Tenzing Norgay, and four surviving members of the original 1953 Mount Everest climbing team.
The ice axe used by Hillary on his historic Mount Everest expedition was laid atop his coffin.
New Zealand Prime Minister Helen Clark hailed Hillary as 'a colossus and a hero'.
Image: Norbu Norgay, son of Tenzing Norgay, at the state funeral of Sir Edmund Hillary in St Mary's Church, Auckland.
Photograph: Brett Phibbs- Pool/Getty Images