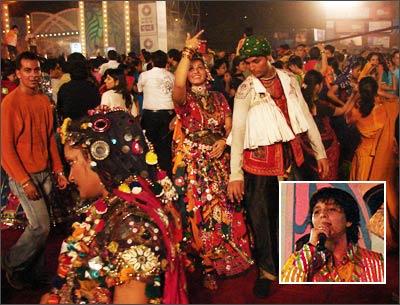 Over 3,000 people gathered to celebrate the Navratri festival at Sankalp, Goregaon, in Mumbai with singer Falguni Pathak on Friday night.
Pathak sang devotional and folk songs in her trademark style.
The crowd dressed in traditional costumes sang along and danced for the entire three hours of the performance.
"This is the 22nd consecutive year I have participated in the Navratri festival," Pathak told rediff.com backstage.
"The crowd is excellent," she said and added, "this year may be the best ever."
Deepakbhai, one of the event organisers, said this year's crowd was one of the largest and the most enthusiatic he had ever seen.
Security was extra tight with swarms of khaki-clad policemen around. Bomb-detecting dogs were seen sniffing the perimeter.
The extensive measures were implemented to deal with the mammoth turnout and any potential terrorist threat.
Thankfully, there was little cause for alarm as families, firends and strangers celebrated to Pathak's music.
Text: Matthew Schneeberger
Photograph: Reuben N V