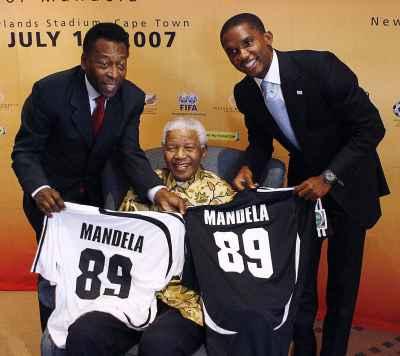 Former South African President and Nobel laureate Nelson Rolihlahla Mandela celebrates his 89th birthday on Wednesday with the country organising a week-long festivities that include launch of a humanitarian campaign and an international football match.
Mandela himself spent a quiet birthday at his home in Johannesburg with wife Graca Machel though he will be present at the humanitarian campaign launch.
He will unveil the campaign today along with former US Presidents, Jimmy Carter and Bill Clinton, and ex-UN Secretary-General Kofi Annan. British entrepreneur Richard Branson and musician Peter Gabriel are expected to attend the event.
According to media reports, the international leaders are expected to announce how they intend to use their combined influence and knowledge to tackle global issues. A roster outlining their full intentions will also be announced during the celebrations.
A FIFA delegation, accompanied by football heroes Pele (left) and Samuel Eto'o presented Mandela with a football jersey. They would take part in a special match between a World X1 and African X1 in Cape Town, the proceeds of which will go to charity.
As part of the festivities, FIFA President Sepp Blatter will confer honorary membership status on the Makana Football Association, an association that was formed by a group of political prisoners on Robben Island during the apartheid era.
While in confinement on the island, political prisoners played organised football matches as members of the Makana FA, adhering strictly to the FIFA statutes.
Photograph: AFP/Getty Images